Ever heard of something called a Dawg Pump?
Most people have never heard of a Dawg Pump and that's okay.
It's okay because it is actually something that is unique to a small town in southern Illinois.
That small town is Carmi and the mascot for the school is the Bulldogs (Dawgs).
The Bulldogs are very passionate when it comes to extra curricular activities which includes sports, drama club, band, FFA, and many others.
All of these require funding to make them happen, which lately has been hard to come by at the local level.
Administrators have found themselves scrambling at times to make sure that these programs can continue to remain viable.
Seems like a great opportunity for community support!
A common theme in small towns across the USA is the support businesses provide to their communities.
Carmi is one of those towns that always has an ample amount of Do Good businesses.
This small town is home to the headquarters of Hucks convenience stores and also one of their multiple stores.
Recently, Hucks partnered with the CWC school system through an unique idea that will help provide support to the school programs that need funding.
The Dawg Pump was set up as a way for Hucks to give back to the community of Carmi.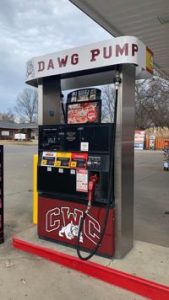 Fueling change in our communities 
For every gallon sold at this dedicated pump, 3 cents is being donated directly back to Carmi White County schools. No questions asked!
Although the Dawg Pump is specific to Carmi, Hucks wants to be a true community partner in fueling change and adding value for society.
Through community support, Hucks is paving the way for other businesses to Do Good in unique ways in their community.