America's way of life has been severely derailed recently by the coronavirus pandemic.
As I write, over 50,000 people in the United States have been diagnosed with COVID-19.
Schools have been cancelled and businesses shuttered. Many states have "shelter in place" restrictions. (India is considering a 21 day stay-at-home order for all 1.3 billion people in that country!)
The economy has been negatively impacted by "shelter in place" and "stay home" orders, and there is no "business as usual," only business as we never imagined.
Many people say this is the worst of times, but the challenges have also brought out the best in many people.
Kindness isn't cancelled
The trucking industry is working hard to  ensure the goods and services we count on make it to their destinations and ultimately reach us.
We know that health workers are especially stressed right now, but this pandemic has also pushed a lot of truckers to their limit.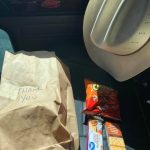 These road warriors–and they are warriors–have found hope and inspiration on their routes. Ordinary people are providing snacks at truck stops and encouragement to the drivers in many other ways. People do good.
The impact on restaurants is also huge. Dining establishments that normally serve a few hundred "eat in" meals every day now sell a fraction of that, and all of those are carry out or drive through.
But even in the midst of hardship, restaurants are offering free meals to those in the healthcare industry, emergency service members, and the trucking industry. People do good.
Americans help in creative ways when challenged by fear
People are doing good for other people, too.
A few days ago a young man walked into a convenience store and bought all the milk the store had in stock.
Surprisingly, he did not load it up and take it home.
Instead he asked the cashier to give it all away to customers as they came in to buy milk!
Homemakers across the nation are putting their sewing skills to work by making masks to donate to nursing homes and hospitals.
The American Spirit shines through dark times
We have been told to go home and "social distance" ourselves during this unprecedented event. We are complying, because it keeps us healthy and slows the spread of illness.
Unfortunately there is a downside: for a nation that never stops moving, not moving creates anxiety.
How have we responded? The American Spirit is alive and well, even as many fall ill. Our spirit rises up and does good for others in creative and inspiring ways. People do good.
The coronavirus has forced us apart physically. At the same time it has brought us together at the heart!