I'm not a marketing guy, but if I were I'd like to have a client like Rolbeto's Taco Shop in Coolidge,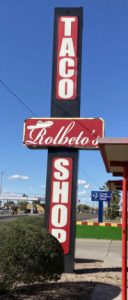 Arizona.
My wife I took a Saturday drive a couple of weeks ago, heading south from Phoenix. We had a destination in mind–a hardware store in Florence.
You might ask, "Aren't there hardware stores in Phoenix?" There are. In fact there is a hardware store within walking distance of our house. But I digress.
I'll have one of everything
After a few hours in the hardware store we were hungry. My wife turned to Yelp! for advice, and found Rolbeto's Taco Shop in Coolidge, not many miles away.
We navigated our way down the road and spotted it. At two in the afternoon, there were cars still parked in front. We added ours to that, pulled hard on the front door (the sign told us to) and found ourselves inside. The place felt like a combination of old-time drive-in, local hang-out, and home.
The menu was written on boards up high and spanned about twenty feet. In other words, there were a lot of choices.
A friendly fellow stood on the other side of the counter and asked, with a genuine smile, what we'd like to order. I said, "I'll have one of everything."
He laughed and said he could do that, and it would make him very happy.
After I ate I thought back to that exchange and had two reactions. Everything would have been awesome; even one more plate of food would have been too much.
And the food was absolutely fantastic. It was the "home" part of the front of the house coming from the back of the house on a plate. I'm spoiled forever by the grilled chicken tacos I had. Wow!

More good than good food
As my wife and I sat and praised the goodness of the food, I looked around. Part of my eye noticed a place or two that could use some TLC, but another part of my eye noticed a whole wall of Thank You signs.
These weren't thank you notes from happy customers, although I'd write one. These were "Thank You" notes from the local FFA, from a girl's softball team, and from several other youth organizations in the town.
I asked my new best friend behind the counter about all the signs. He said those were only a few of the signs and thank you plaques they have received, but there was no room to put up any more.
His brother, he said, opened the restaurant several years earlier and wanted to serve really good food (check!) and be a good part of the community (check!!).
It's a family business, he said, and I met a sister, and a nephew and waved at some other family members who were all happy, smiling, and doing good in multiple ways.
Thanks, Rolbeto's, for making an already fun day a really, really good day. We'll be back.