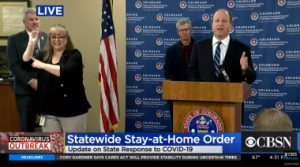 Stay Home!
In the midst of the COVID-19 pandemic, more than half the states in the United States have "stay at home" orders in place. California was the first, on March 19, 2020, and (as I write) Wisconsin is the most recent.
Stay Home, Stay Healthy
Several governors who announced Stay Home orders added a phrase to encourage compliance. Washington Governor Jay Inslee called his order "Stay Home, Stay Healthy."
Governor Phil Scott of Vermont issued a "Stay Home, Stay Safe" order, appealing to people's own safety.
In Oregon Governor Kate Brown called her Executive Order, "Stay Home, Save Lives."
Governor Jared Polis (pictured above), appealed to scripture when he announced the Stay Home order for Colorado. Ecclesiastes 3:1 says, "For everything there is a season, and a time for every matter under heaven." (ESV)
"Now," said Governor Polis, "is the time to stay home."
Stay Home, Do Good
I am not the governor of any state, but if I gave an Executive Order I might call it Stay Home, Do Good.
I have talked with many people since COVID-19 disrupted our lives. I've communicated with friends in many parts of the United States as well as in other countries.
Around the world people are doing much good in many ways, but most of those are happening outside the home.
Like my friend Rick, who paid for the groceries of the family behind him in line without knowing them or telling them he was doing that. (He didn't know it himself until he did it!)
7 ways to Do Good while you're home
Read that book you've been meaning to read. That will be good for your mind and spirit.
Read "The Book" if you are so inclined. You might have to find it and dust it off, but that's OK. You might even start with Ecclesiastes 3. That will be good for your soul.
Talk to your family. We get so wrapped up in our own worlds that even the people we live with don't always know what is going on with us. Fix that, and it will be good for them and you.
Pray. OK, you're probably already doing that. But don't just pray for your own health, pray for health workers, pray for grocery store workers, pray for Amazon delivery people!
Pray for restaurants and airlines and workers who have lost jobs. Pray for families who have lost a loved one.
Write a letter (a real letter) to someone you care about. Send a card to someone in a state where people have to stay home.
Use your phone to make a call. I know that's old school, but it's still fun!
Whether you can get out of the house or have to stay home–wherever you are–do good.