Much like many small towns across the U.S.A., Carmi, IL is home to several rummage sales every year.
The intent for a rummage sale is to rid ourselves of the "extra" stuff we have accumulated.
Getting ready for one is usually a daunting task that not always produces the end result one may hope for.
If you consider the original cost of the items, the time spent setting up and tearing down, and the labor involved most rummage sales likely come out in the red.
So why do people put themselves through all of that work for essentially no return?
Maybe there's something better than making money?
Abbey grew up in Carmi and once she came back home for a position at First Bank in 2015, she was exposed to brokenness in the community through projects she was involved in led by the bank.
No Child Left Hungry and The Giving Tree are two programs the community support with guidance from the bank.
These are very important and impactful programs, not only for the recipients, but also for those doing the giving.
Being in a leadership role for these programs helped Abbey to see how many children and families are in need.
Inspiration for what comes next.
In the summer of 2018 several women met for a bible study called IF:Carmi.
The response was so good they decided to meet again that fall and together they decided to love on Carmi by spreading the gospel by distributing bibles for children.
Teaming up with the Giving Tree and similar programs they collected and gave away over 400 bibles in surrounding communities.
The "Bible Project" was a huge success, but what's next?
Upside down rummage sale? What's that?
Abbey's friend in nearby Norris City along with her church hosted a unique rummage sale by simply giving away things from their own homes to those who had nothing.
After attending this awesome event, Abbey was inspired to do something similar, but she didn't have a vision for it.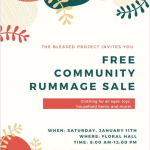 Just a couple months later while preparing for the Giving Tree, God showed up and gave her the vision for what was to be called the "Blessed Project".
January was chosen for this "free" rummage sale to take place in order to utilize Christmastime to advertise.
Family and friends joined Abbey in promoting the event as well as setting up tables and getting the rummage ready.
The amount of items donated was phenomenal and included such things as:
Home decor
Home applicances
Furniture
All kinds of toys
Clothes, shoes, books etc.
Hundreds of people showed up that day (the weather was nasty) and 95%  of the items donated were taken!
Even the remaining 5% was donated to an organization that provides services to supported living facilities and adults with disabilities.
The leftover shoes were given to the elementary school and Relay for Life.
Doing Good with and for friends
This unconventional rummage sale certainly made a profound and lasting impact on not only the group putting this together, but especially those that benefitted from the kindness and generosity of so many.
When Abbey went back home to Carmi she had no idea how God planned to use her, but putting her faith in his plans has had a positive impact on hundreds, maybe thousands of people in the community.
Quite simply, that is Doing Good for others.
Share your inspirational story with us! Leave a comment or contact us.