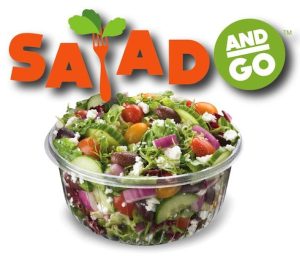 Salad and Go is based in Gilbert, Arizona, and that makes me very happy. That's because I live in Gilbert, Arizona, and not only their headquarters but three of their twenty restaurants are in Gilbert. One of them, as it happens, is pretty close to my house.
Their food is, IMHO, really good. That makes sense, because it turns out that they are also really good. How do I know that? Here's how.
Make Lemonade
I recently received their newsletter, and the headline was "Making Lemonade out of Lemons." The first sentence was, "At Salad and Go, one of the tenets of our culture is compassion. We say, "If you're in a position to help, you help."
The newsletter also noted the unique position they were in to help during the Coronavirus pandemic.
They only do drive through
They have very few touchpoints
More than most restaurants, they are able to control risks
The communities they serve need, more than ever, clean, whole, organic food for immune system health, and that's what they have on the menu
So a few weeks ago they decided to give away food to those on the front lines. The week of March 16, 2020, they gave away over 12,000 salads and breakfast burritos to nurses and first responders!
The week of March 23, they gave away thousands more. And they have continued to do that, right up to today. They'll miss this day, though, because it is Easter Sunday as I post this and they're closed today. But tomorrow they'll be back at it.
Who gets the food? According to their newsletter, they have included anyone in the healthcare industry as well as anyone in the grocery, retail, restaurant and hospitality industries.
Amazing! But There is More
They also decided to include the Arizona National Guard, active duty military, and certain nonprofits.
Of course it isn't in their plans to go out of business, so they've created a schedule for different groups for different days, but they keep expanding the list, and it now includes truck drivers, childcare workers, teachers, and many, many more.
That's how I know they're good people.
Doing Good is Contagious
The newsletter went on to say, "One of the most beautiful things we've seen as a result of this effort has been how many of YOU have privately asked how you, too, can help."
And so they created a donation feature that is at the top their web site, and also on their Salad and Go app.
Well done, Salad and Go! I'll be there Monday to buy a breakfast burrito. Or maybe I'll buy a salad. Or maybe I'll buy both and make a donation.
Thanks for making good food, and thanks even more for doing good.