The restaurant and foodservice industry is a large part of the US economy. The average American eats out between 4 and 5 times a week, spending on average $232 per month. I know my family enjoys eating outside our home if we can all agree on where to go, that is. Each one of us has our favorite place we like to go, as do most Americans.
We certainly aren't limited to our choices of types of food to eat either. Several of the top types of cuisine are Mexican, Italian, Chinese, Tex-Mex, Cajun, and American food. See, I told you there are plenty of choices. One of the best things about the food industry nowadays is most of it is available at our fingertips. I mean that figuratively and literally...we can get to a restaurant quickly or we can quickly order with our fingertips. Being able to get our food when and how we want it has become a major player in the food industry.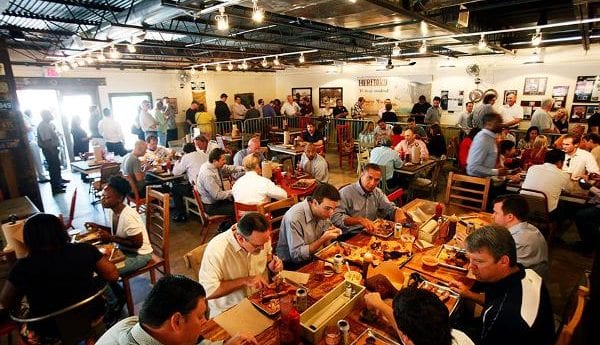 When Did This All Change?
Over the past 40 years, the restaurant industry has experienced wholesale changes in almost every way. Sitting down for a meal in a restaurant with family and friends was a treat to most families. The whole experience of going out to eat may have even been considered a privilege in many social circles. Being able to go to a restaurant, have your order taken by the waiter or waitress, and have the meal cooked and delivered to the table was an amazing experience.
This still is true today, although it seems to be much more common for Americans to dine in more often, especially with our busy schedules. Menu size has changed drastically, too, sometimes overwhelming if you ask me. This change has happened over time, but recently the offerings of most establishments are much larger and diverse than just a short time ago. In my opinion, having more to choose from is a good thing…mostly. Seven options per food category are the golden number offered by most restaurants. Appetizers, salads, soups, three or four options for the main course, and then desserts that adds up to lots of options.
How Do They Have Time to Sleep?
Restaurant owners are very busy people. I wonder how they have time to sleep with a long daily to-do list. Preparing for the doors to open each day is a daunting task in and of itself. I have never been in that position and may never be, but I do have friends and family that are. They are busy…very busy! Having passion and drive is a must if one is to operate a restaurant of any kind. Whether it is a large chain or small town mom and pop, I know that it takes a huge commitment to make it all run smoothly. Disaster can certainly strike if attention is not paid to the details.
Training Employees and Making Leaders …Kind Leaders
One restaurant in my hometown, The Taco Factory, is certainly one that pays attention to detail. I know this because my cousin owns it! Heather Talley, (better known as Nonny to her grandkids), has taken the dream of owning a restaurant and made it so much more. 'Taco', as most know it, is making a huge impact on the community of Carmi and not just with its food…great food by the way!
To say that 'Taco' is community-minded would be an understatement. The employees there have become more like family than co-workers and love to help others through acts of kindness. My heart smiles every time I hear of something the 'Taco' family has done for our community and ever heard of giving away your tips? Me either, but that's what happens with the tip jar every month at 'Taco.' They give 100% of their tips to groups within the community …how awesome is that? Once it was decided to do this, and customers learned of it, their tip amounts went up … a lot!
Opportunities to Do Good are Everwhere
Two other ways the staff shows love is through the summer lunch program and the Giving Tree at Christmas. Giving money towards a charity is one thing, but Heather and her crew don't settle for mediocre. Actually, doing the work of packing the lunches and delivering them along with shopping for the gifts they buy for the Giving Tree is the standard operating procedure for this group.
I know without a doubt that most of The Taco Factory's customers love them for their delicious food and super friendly service. More importantly, though, the impact that Heather and her employees have had on each other as well as on the community they serve is something I believe will make others want to do good by following their example.
It seems the opportunities to do good are everywhere … all we have to do is be paying attention!