Ask any graduate what one of their most memorable high school activities was and they will likely say "prom". Ask any teenager what one of their most anticipated high school activities is and they will most likely also say prom. Students have always looked forward to this time honored tradition. Dressing up in formal wear and be treated to a night of glamour and dancing, what could be better than that? Queens and Kings are crowned and attendees get to feel like royalty as they "promenade" for parents and community members. It is certainly a night made for these students to shine.
A Grand Vision
While prom is a highlight in the life of most students, there are groups of students who may not get to fully participate in that same experience. Students with disabilities and/or special needs may have a very different prom experience. This is why in 2014, Tim Tebow and his foundation established "A Night to Shine". Tim's vision was to work with churches across the country to "provide an incredible prom night experience, centered on God's love, for people with special needs, ages 14 and older."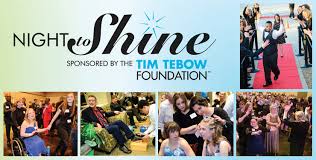 The first "night to shine" was held in 2015 at 44 churches across 26 states and 3 countries. You will be amazed to know that 7,000 students with special needs were treated to a prom night they would not forget by 15,000 volunteers. Since that night, the night to shine has been held yearly on the night before Valentine's day and has grown exponentially. In February 2020, 90,000 students with special needs were provided a prom night to remember by the hard work of over 150,000 volunteers in 537 churches across 49 states and 16 countries.
Lucky To Know A "King"
I am fortunate enough to know a student who was able to attend this special night. He was able to invite a guest of his choosing. They were treated like kings and queens with red carpet rolled out before them. This night included all of the details of a "regular" prom. They had their pictures taken and enjoyed great food. He and his date danced the night away. When I asked him his favorite part of the night, he stated he loved the music and the dancing. His date also said she had such a fun time and that it was an experience she would never forget.
Tebow Takes It To The Next Level
This past January, Tim Tebow's foundation announced that they were taking their outreach to another level. They introduced 'Shine On' by stating 'Shine On' would be "a ministry of the foundation dedicated to connecting new and growing special needs programs within local churches to world-class faith-based resources that train, guide, and support churches as they serve their local community of people with special needs".
https://www.timtebowfoundation.org/stories/introducingshine
Seven organizations are currently partnering with churches established with hosting 'A night to shine' events. These organizations include the All Belong Center for Inclusive Education, Champions Club, Friendship Ministries, Joni and Friends. In additon, Key Ministry, Nathaniel's Hope, Rising Above Ministry, Young Life Capernaum, and 99 Balloons are also partners.  The 'Shine on' Ministry will help churches to do more good for individuals with disabilities. Providing them with events to help them feel a sense of community and purpose. Most importantly they want these individuals to know of God's love for them.
Tebow's heart for these young people is truly inspiring. I remember how great it was to be a part of the prom experience, it was very special. This opportunity provided by 'The Tim Tebow Foundation' to these students is a prime example of how God wants us to do good. Visit the foundations website to find out how you can be a part of this amazing event.