Maya Angelou said, "I've learned that people will forget what you said, people will forget what you did, but people will never forget how you made them feel."
It's a brilliant quote in its simplicity and truth. I have found, in my 20 years of teaching, that teachers are often wonderful examples of how this quote is put into action.
Although I teach British literature, I know that the details of a particular lesson will not be what students remember about our time together.
Do People Remember?
Close your eyes. Take a minute. Can you recall your 2nd-grade teacher? How about your 5th-grade teacher? Maybe your high school math teacher?
Did their name quickly come to mind? I'm making an assumption, but I'm hoping the answer was yes. Why is it that a teacher's name is easy to recall and yet you might struggle to remember the name of the doctor who recently performed a routine procedure?
Obviously, what the physician did for you was necessary and vital. So why does their name not come to mind as quickly as a teacher from 25 years ago did?
I would venture to say that the teacher is easier to recall because of how they made you feel during your time together.
Listen To Your Children
My daughter, Blake, is currently in the 2nd grade. Hearing her say the words "coronavirus and Covid-19" sound utterly foreign to my ears every time they come out of her mouth.
Both terms are heard daily on the news and social media. I cringe every time she says it because of how it is impacting her.
But if you are looking for the good in the world, amongst all the anger, look and listen to what your children are saying about their teachers. Although the coronavirus has stolen Blake's time in class with her friends and teacher, it has not taken away her teacher's heart.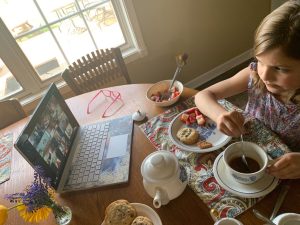 Blake's teacher, like so many other teachers, has gone above and beyond to ensure that her students know they have not been forgotten.
Her teacher delivered invitations to each student's home, taping the invitation to their door, inviting them to a virtual tea party. Why would a teacher do such a trivial thing? The answer is simple, to a 2nd grader, it is not trivial, and a good teacher knows that. A formal tea party is a tradition for all 2nd graders to participate in, in our community.
Tea Time Is A Fun Time
The virtual tea party was cute with little boys dressed up in bow ties and girls with dresses.  Each surrounded by teacups and finger foods.
This is not what my daughter will remember or, more accurately, it will only be a small part of what she remembers. As she grows older, what she will remember is that her teacher made her feel special.
Blake will remember her teacher making time to allow her to have the "same" experience that her older sister had as a 2nd grader.
Blake will think back to the time when the entire state, and much of the world, was forced to "shelter in place". She will remember her teacher taking to social media nightly to read a book to her class. She will remember that her teacher asked her to read a book live to her classmates, helping to build within her life long self-confidence.
Blake will recall being nervous to read publicly, but she will also remember the thank you note she received from her teacher telling her how brave she was to read to her friends.
Focus On What Really Matters
I know the world is consumed with anger over being forced to wear face masks or being unable to get their hair cut. My daughter will not remember those moments in history. She will remember the small acts of kindness her teacher gave to her.
Kindness and goodness come in many forms. It can be a grand gesture or a small act. What is universal is the impact it leaves.