Kids these days are usually selling lemonade or cookies. Not for 6-year-old Callaghan McLaughlin, he's running a joke stand. The Canadian kid knows plenty of jokes that will leave you laughing.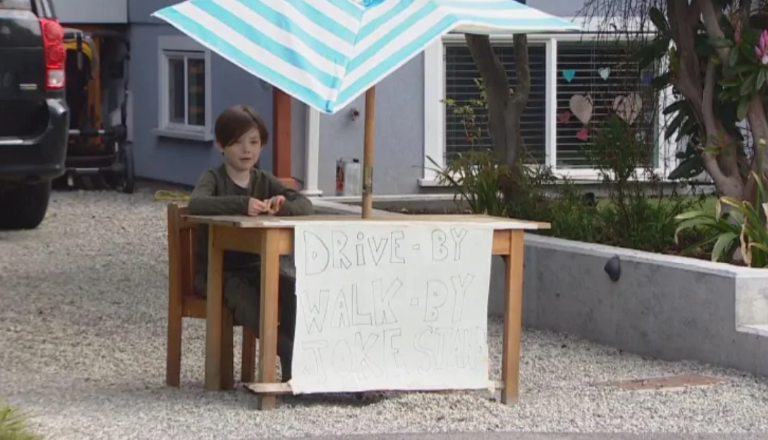 Good kid tells jokes to keep neighbors smiling
The good kid says he is telling jokes to relieve the stress from people and to get them to smile more. This youngster has spent the last week telling jokes to passerbys and his neighbors at the end of his driveway.
His mother, Kelsea McLaughlin, said Callaghan has been doing this because he was missing spending time with other kids because of the current state the country is in.
The good mother bought her son a joke book, and that gave him plenty of one-liners, which he had practiced on his parents for six months. The joke stand usually opens at 10:00 AM and tells jokes for an hour before taking a short lunch break.
He returns for the second round of jokes in the afternoon. Callaghan says the stand gets a good amount of foot traffic because its close to Cadboro Bay. Some of the people usually smile and wave, while others return the favor with a joke of their own.

6-year-old Canadian bringing smiles to those around him
Callaghan did not want to accept any money for his service. He thought people needed to save money for more important things, like groceries. He wants to keep the stand going for another week. The good folks in his community shared his humor across social media, and he ended up receiving praise from fellow Canadian Ryan Reynolds.
While Callaghan is becoming very popular, he says he is just happy to spread some joy among those that walk by his joke stand. While his mom was the one to give him the idea, he says she's not the funniest person in his family, and instead, his dad is the funniest.
What a cool and creative way to spread goodness and hopefully a smile!