In the winter of 1988, there was a big meeting happening in Flippin, Arkansas. Professional fisherman Hank Parker and NASCAR legend Dale Earnhardt had made their way to the property of Forrest L. Wood. Parker was a bit nervous that day, introducing his two closest friends as they had never met each other. He even went as far as telling, "the Intimidator," to be on his best behavior with Forrest, or they were going to have problems. That shows how much Forrest meant to Hank.
Dale laughed it off, which made Hank even more nervous. Soon after the introductions, Dale and Forrest were off walking in the woods as if they'd known each other for years. You see, Forrest didn't care about Dale's fame, he just cared about him as a person. This was his special gift from God; he genuinely cared about the people he met and knew.
Humble Beginnings
Wood was born and raised in the small town of Flippin, AR. He grew up with his parents and one younger brother. On April 21, 1951, at the young age of 19, he married Nina Kirkland, and they started raising four daughters on a cattle farm. When cattle prices dropped, Forrest moved the family to Kansas City, MO, where he found work. In April 1955, Wood moved back to Flippin and started his own successful fishing guide service on several bodies of water in the area.
While continuing to raise cattle and doing some construction work, they also ran a float trip business. In 1968, he tried his hand at making lake (bass) boats in the back of a filling station. Making six boats that year, he started to gain some attention. The next year he made 600 boats in an old nightclub. In 1970 Ranger Boats sold 1200 units. Forrest had figured out how to make a bass boat like never before.
His success didn't slow down after a fire destroyed the boat factory in 1971. Ranger Boats hardly missed a beat and was back in business within forty days. In that same year, Wood qualified for the first-ever Bassmaster Classic, and the following year Ranger became "the Official Bassmaster Classic boat." Ranger held that title for nearly thirty years.
FLW – Fishing League Worldwide
Operation Bass was renamed using Forrest's initials, FLW, in 1996. The FLW organization has seen soaring success in the sportfishing industry. Tournaments have been broadcast in some twenty-five countries around the world. Fox Sports Network, ESPN, Matchroom Sport, and the Armed Forces Network were the first to show this growing sport to the world. FLW grew to new heights as a result, soaring on the wings of its namesake, Forrest L. Wood.
The Kindest, Most Generous Man
Hank Parker describes Forrest as the kindest, most generous man he'd ever met. Parker first met Wood in 1975 while giving his opinion of a new boat model Ranger had out. Although he wasn't a fan before the meeting, by the end of the day, Forrest had convinced Hank his design was good. That didn't come from any arguments, just nice cordial conversation. You see, that's who Forrest was. A kind, cordial, and generous man.
Wood and Parker's relationship would grow stronger from that day. Hank was fishing pro circuits and winning tournaments. Forrest saw something special in Parker and helped him during his fishing career and also with his passion for helping kids get into fishing. Over the years, the two teamed up on several occasions hosting fundraisers, youth tournaments and helping numerous school programs get started. No doubt, they both were passionate about helping others to know the joys of their sport.
Meeting Him is Knowing Him
Forrest's accomplishments span over many years but ask him how he did it, and he'll likely say, "none of it would have been possible if Nina had not been there." The two were inseparable, teaching, and inspiring many about life from their relationship. Wood had a special gift, one that is easily recognized the moment you meet him. He cares for everyone he meets…everyone.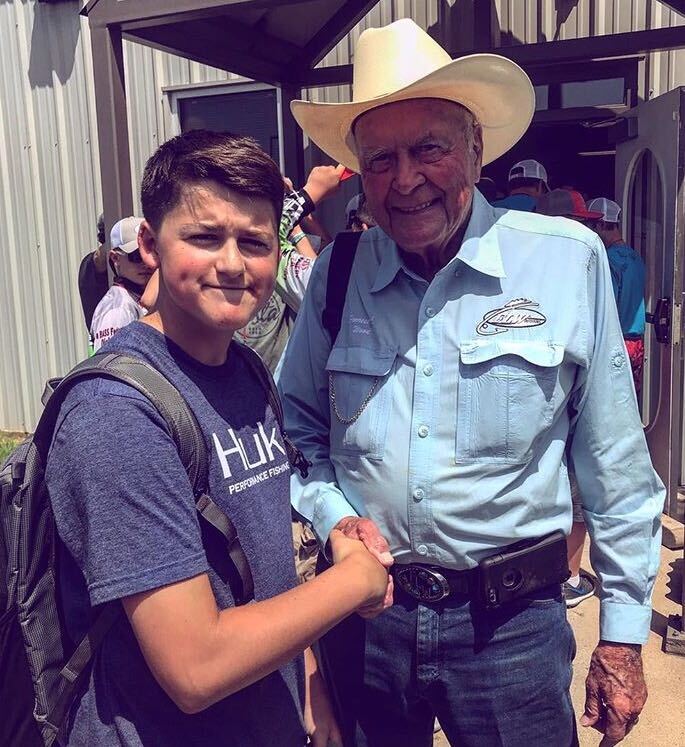 The world lost Forrest L. Wood on January 25, 2020. What he gave to those who knew him is priceless. My son and I met him a couple of years ago at the inaugural FLW High School Fishing Camp in Murray, KY. Meeting him should have been comparable to meeting Michael Jordan, but it was different. In our eyes, he is a superstar, but in his eyes, he's just one of us. A man that enjoys the outdoors, fishing, and listening and talking to people. His passion knew people the moment he met you and making sure you felt that. I know I did as well as countless more over the years.
Forrest laid the foundation for Ranger Boats to succeed, but more importantly, he laid a foundation and example for us to follow. Forrest L. Wood was a good man.