It is simply not possible to define the joy of giving something to someone in need. All you need is to come forward and help some to feel it. You will see it happening on the face of the recipient.
Something similar happened to a struggling high school student of Idaho, Dylan Guilmette, who lost his mother two years ago and couldn't buy new clothes.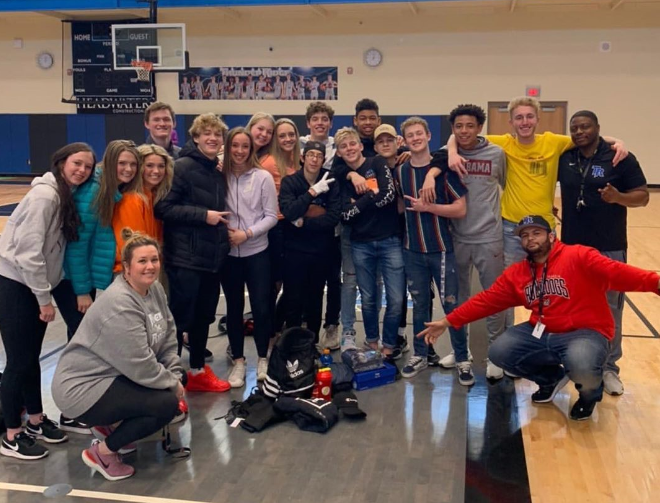 Share Something to Spread the Joy
On his birthday, when everything else was just like any other day, something extraordinary happened when his friends from Thunder Ridge High School gifted him an Adidas backpack. For anyone else, receiving gifts on the birthday is absolutely normal, but for him, it was strange because he wasn't expecting anything.
To his surprise, the backpack was stuffed with new clothes, shoes, and sportswear. One could see and feel the joy of Dylan in a broad smile. Porter Harris captured this moment of joy perfectly when classmates were presenting him the gift.
All one needs is the openness to see the pain of others and come forward to share some joy. Dylan's classmates noticed his repetitive wearing of the same outfit every day and decided to buy some clothes for him.
Small but Great Act of Kindness
God has made us all equal with a great heart to love and connect. This connectedness makes all the difference. Dylan's classmates did what every individual should do without any precondition. Someone rightly said that God is there in small things.
One Instagram follower rightly said, "The person saying, 'I got you bro' at the end is the best part because it means he has a person. Someone that loves him. We all need at least one person to get through this life."
Dylan is a lucky soul to have so many great friends to help him in times of need. Unfortunately, millions aren't that lucky. One such act of doing good could do wonders in the life of people who are struggling to have two meals a day.
Dylan's saga tells us that as an individual, one should come forward to help any person in need and say, 'you are not alone,' bro!