There are some people that just have the natural ability to entertain. The need for entertainment has been around since the dawn of time. What makes each of us laugh may be somewhat different, but nonetheless, we all enjoy a good laugh now and again.
What is Entertainment?
Entertainment is a form of activity that holds the attention and interest of an audience or gives pleasure and delight. Storytelling, music, drama, dance and many kinds of performance are some prime examples of entertainment. One of the most important aspects of entertainment is the audience. Watching a play, opera, television show, or film considers the audience in a passive role. Being in an active role would be playing some sort of game, where the participant/audience roles are reversed.
Creativity is at the heart of entertainment and in the hearts of people. It is in this creativity that so many different forms of entertainment has come to be. The evolution of entertainment is quite impressive with the vast array of modern forms of entertainment.
Movies, TV shows, comedy clubs, concerts, food festivals, amusement parks, theater, sporting events and even road trips are several types available to us. All of these, and more, are unique in their own way and provide different levels of satisfaction.
Being Entertained is Good for You
Entertainment has always been a large part of our lives. It is a source of relaxation, enhances our mental health, teaches us, and gives us aspiration. Many people are influenced by those they see on TV, in movies and other forms of entertainment. Today, the internet is a huge resource of bringing entertainment to the masses. The internet virtually brings all sources of entertainment right to our fingertips. Finding what we are looking for is not hard to do through a search on the internet.
Social media has also become a big part of our entertainment. Keeping us updated on happenings around the world as well as staying connected to friends and family. We are seemingly 'in touch' with what is going on in the world around us. It also serves as a strong force for good. Keeping us inspired through stories told by news sources and individuals on a daily basis.
Using Social Media to Lift Up Others
Small towns across the US have been adversely impacted in the past few months. Hundreds of small businesses in the Carmi, IL area have had to revamp their business plans to accommodate restrictions placed by the state. With the restrictions has come economic disparity. My hometown is great at coming together and finding new ways to not just survive, but thrive. Helping each other in times of need is what the community is all about. Many of these businesses have put the internet and social media to work for them during this strange time. One person has used social media in a unique way to help our community.
Justin James is a lifelong resident of White County. Growing up in nearby Norris City, he now lives in Carmi and loves to help others in the community. Anyone lucky enough to know him is sure to know his passion for the well being of others. Just after the beginning of the COVID-19 event, he decided to lighten things up a little and accept a challenge from his nephew. Make a video of Justin dancing to a song and post it on Facebook. Challenge accepted!
Making an Impact…Having Fun Doing It!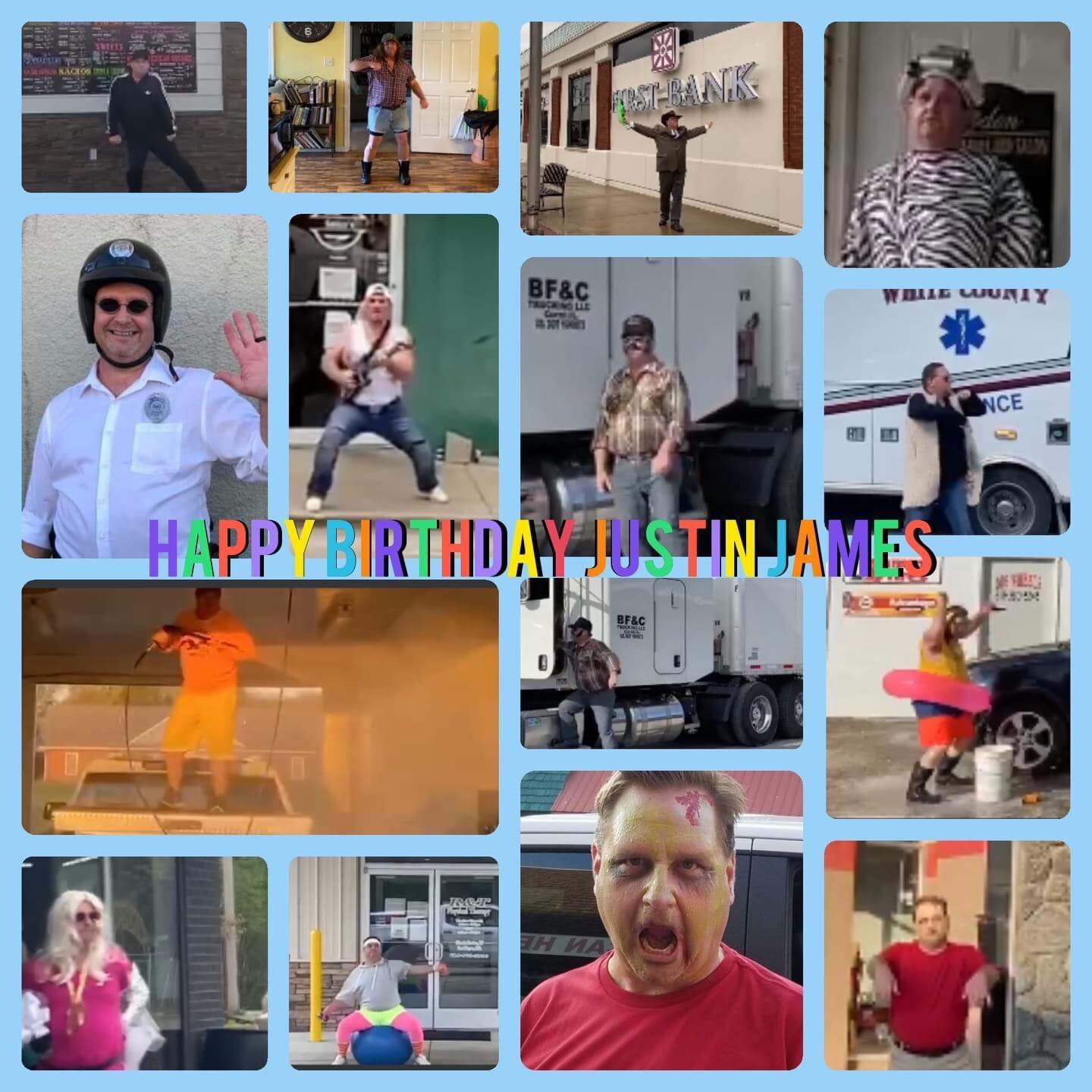 His first video was simply his wife Jenn recording him being silly. Then the inspiration hit to take it to the next level and do more videos. Only now the entertainment was going to take place in front of local businesses. Promoting these businesses, and their owners and employees, became the sole focus of these videos.
Posting them on Facebook was the obvious choice to gain as much exposure as possible. Once the first one hit, it was on from there. Justin and his family have been busy having fun for weeks, with orders at least a week in advance for new ones. He has posted at least 15 videos so far and many more in line waiting to share in the joy and laughter Justin brings through them.
Justin James isn't doing this for fame, rather much the opposite. He just wants to have fun by providing a distraction from the uncertain times we are living in. He wants to make people smile and promoting the businesses in the process is an added bonus. Having a heart for doing good for others is what he wants for all of us. He is a good man doing a good thing for a good cause!
If this story inspires you or if you know of more good being done, leave us a comment. We love hearing and telling about people who do good!