The hospitality industry is once again rolling the red carpet for its guests. What would a struggling restaurant ask for after it reopens but for a decent flow of customers? So when The Frog & The Bull restaurant in Austin, Texas, resumed after a brief hiatus, one of its customers paid double his bill and gave a $1,300 tip!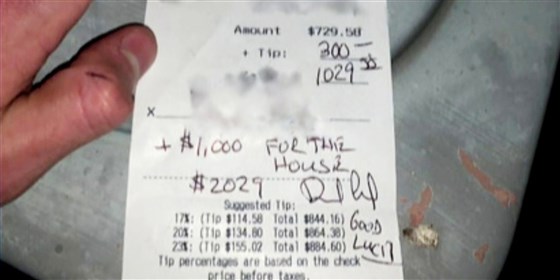 According to Yahoo News, The Frog & The Bull restaurant in Austin, Texas, was only four and a half months old when it had to reconfigure its business and close its doors to customers. Friday was the first day when the eatery was fully open.  David Fernandez, the owner of the establishment, is a specialist in tapas, steak, and seafood.
Good Samaritan Act
That night a man with an extended family of five settled down and ordered a few "higher-end items" and "a couple of decent bottles of wine." Fernandez was talking to Today, and the meal cost a little over $300.  The man was a regular at The Frog & The Bull restaurant.
The man gestured his server, 18-year-old Josh Pikoff, for the bill. What followed left both the server and the owner speechless. The customer first asked the server to double the bill. Not knowing what to say, Pikoff asked Fernandez to come to the table.
"I just looked at (the customer) and said, 'Are you sure? You don't have to do that,'" Fernandez recalled. "He was like, 'No, I'm very sure.'"
When the customer got the revised bill, he wrote in a $300 tip for Pikoff and another $1,000 "for the house," according to a photo of the check. The total came to $2,029.
Customer promised the best service in the future
The Dailymail quoted Fernandez as saying, "We were pretty stoked about that. It was crazy,"  "I told him … 'We'll take very good care of you when you're back in here, trust me. This is really nice of you.'"
This is an amazing act of kindness. Just remember that whether large or small, doing good acts for others always make a difference. Share with us a story like this in the comment section below. Do Good U loves to hear about others doing good…always!