High School students, Sophomores Kylee Kruse and Aidan Martin are just like any other teen.
The duo was shopping for Groceries at Harps in Prairie Grove when they stumbled across a wad of cash. The cash amounted to $600, which is not a small amount. But the duo decided to turn it over to the store manager. The students did not do it for fame or publicity.
Not for Fame
However, Harps Store Manager RC Capper wanted the story to be known by everyone. He posted the honest act on social media, hoping he could show his appreciation for the couple for doing the right thing.
Become celebrities in their town
The two kids forgot about the incident. It was only after Kylee's mother informed that they had become small celebrities, the whole town of Prairie Grove was looking for them to congratulate.
Speaking to WGN9, Kruse said, "Obviously it wasn't like an easy, simple, 'okay let's just turn it in.' But we knew we had to do the right thing. It felt really good. We identified it belonged to somebody and that we needed to get it back to who it belonged to."
The two teens said they returned the money not to get recognition, but because they knew it was the right thing to do.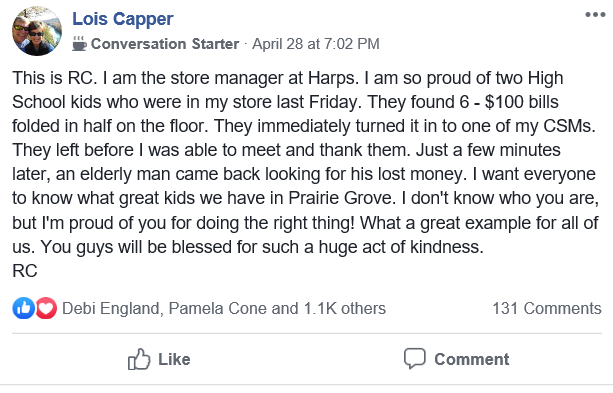 Harps Store Manager RC Capper who posted about the act of kindness on social media said, "I had to do a little searching to figure out who it was," He was able to trace the duo a couple of hours after posting. Capper added, "I was so proud of them. I just wanted to brag on them because that was just awesome."
Arkansas Representative Charlene Fite told KNWA/KFTA she sent both Kruse and Martin a letter of commendation from the House of Representatives.
These random acts of kindness enforce our faith in humans. God always appreciates such acts of kindness and honesty. Please write your comments about what you think about such acts of kindness and goodness.