America is moving, and drivers of Pilot Co. and other service providers are crucial in keeping America moving. A mother and her son found a way to say thank you to these crusaders who have kept this nation alive and kicking.
Carla and two-year-old Luke from Smith Creek, Michigan, loved watching professional drivers come and go. Luke loved watching the enormous big trucks moving and honking. He would giggle and wave back to the drivers. Talking to Csnews.com, his mother revealed it brightened their day. That is when an idea struck Carla. She decided to do something for these hard-working men and women whose simple honk and wave brightened Luke's day.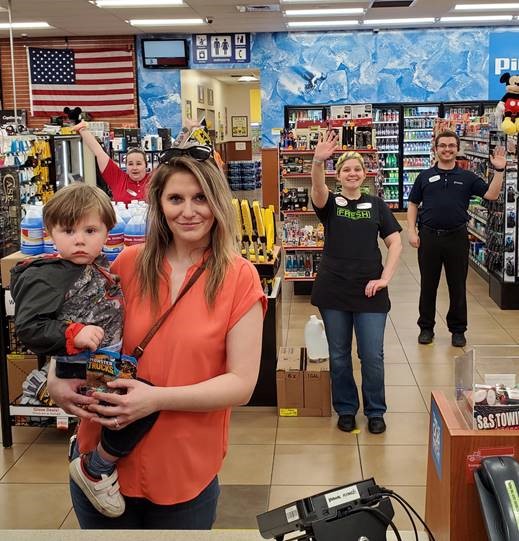 Carla decided to show her gratitude for them by purchasing 20 Pilot gift cards for the team members at Store #596 in Port Huron, Michigan.
Talking to Csnews.com, Carla said, "I thought a gift card would be helpful so that they could grab a bite to eat or whatever they needed. We just wanted to show them that people care. These truck drivers are out there every day to bring us supplies."
Burly Drivers Moved By Kindness
Carla's noble deed moved several team members and professional drivers. It was nice to see these men who were huge and burly, become dewy-eyed when they discovered Carla's act of kindness. The men were experiencing financial difficulties. They also were emotionally drained, separated from their families for weeks on end because of lockdown. Carla's act motivated other professional drivers who continued to pay it forward for other drivers, buying additional gift cards.
Invisible Heroes
Michele, an associate at Store #596, told csnews.com, "This has been such an uplifting experience for my team and me. With all that is going on in the world, it is easy to forget how important kind words and gestures are for so many. We never have any way of knowing what is going on with anyone else. Each of us has realized how important we are in the lives of our drivers and our work family as well,"
According to Pilot Co, since Carla's act, the travel center operator has received several requests from others, also wanting to thank professional drivers. Based in Knoxville, Pilot Co. operates more than 750 retail locations in 44 states. What do you think about Carla's act? Please give your comments in the comment box below.
<<>