Two Texas boaters are being praised as heroes after saving the life of a baby deer. The deer was discovered drifting in a Texas lake.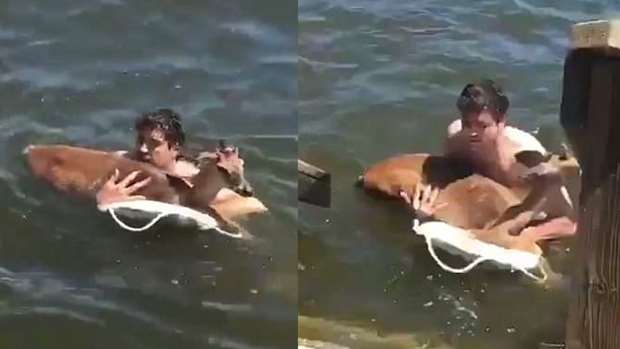 Good Samaritans surprised to find deer floating in the river
Brian Ballard and his wife Liz were out enjoying their time on Lake Tyler when they spotted something floating in the water. They assumed it was a dead fish, but with a closer look they realized it was a baby deer.
The Ballard's pulled the boat up for a closer look. Then, fellow passenger, Ashton Byrd took a closer look after hearing the sudden commotion and discovered it was a baby deer. Ashton quickly went into action. Byrd told KETX that the baby deer appeared dead but had signs of life in its eyes. So he quickly took off his shirt and jumped off the boat to rescue the deer.
 Good Samaritan boaters save baby deer after performing CPR
The two men took turns, giving the fawn CPR until it finally regained its breath and stood up on its feet. After reviving the deer, Byrd transported it to a nearby rehab clinic for treatment. Mrs. Ballard posted a video of the surprising rescue to Facebook. It has been viewed over 90,000 times, and those who watch are praising the group for their heroic actions.
The folks at the rehab clinic say the deer is recovering quickly and getting stronger. They attribute it to Byrd and Ballard's life-saving actions. The three boaters will forever be remembered as heroes. Moreover, it's always good to hear about people saving the lives of God's creatures. Have you had a similar experience, or did you witness something cool like this? Share your stories in the comment section below.