Like all entertainment sites, Walt Disney World is also in a shutdown. It did not prevent Flannigan, an entertainer at Walt Disney World for nearly 40 years, from spreading joy and happiness. Flannigan has been crisscrossing the nation for the past few months. He has a simple mission- Deliver a little cheer to colleagues and other friends.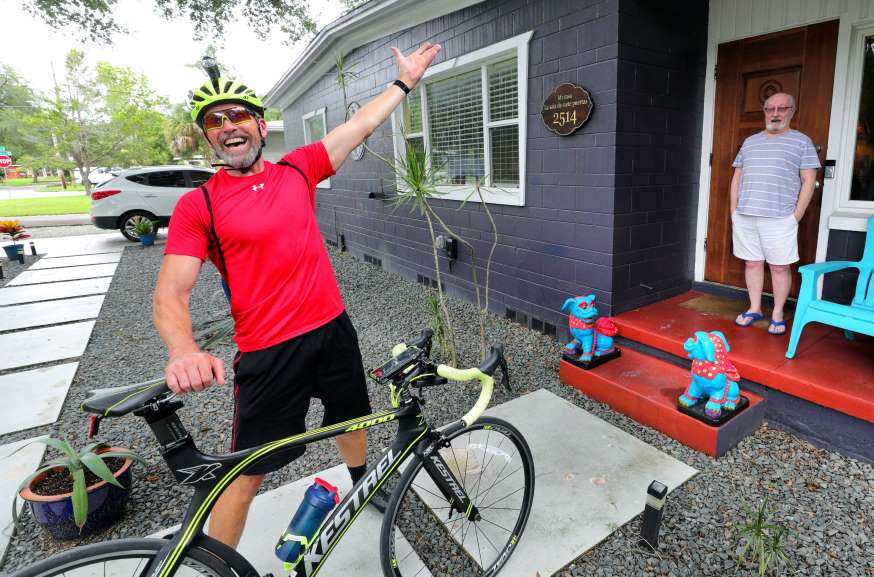 A Scion Of Walt Disney World
Flanigan, an entertainer at Walt Disney World for nearly 40 years, has ridden his bicycle thousands of miles the past few months. He undertook a lot of physical work for this endeavor:  His unadorned melody, custom-made for the recipient, comes with choreography and the trademark Flanigan smile. Billy has been entertaining the public for many decades. Notable performance includes -Finding Nemo — The Musical, Tarzan Rocks! And the Hoop-Dee-Doo Musical Revue.
I've been Flanigram-ed
A friend has aptly named Flanigan's surprise visits as " Flanigram." His exploits found a place in social media full of pictures with captions, "I've been Flanigram-ed!"
Flanigan has cycled more than 3000 miles and met 265 friends and colleagues. When Walt Disney World shut down due to the pandemic, Flanigan brought his bicycle and started his 3000 miles odyssey. He met his long time friend Hannah Laird.
Later, Laird wrote in a post in social media, "He stood on the sidewalk, and I sat on my stoop, and we chatted for a while. When he left, I burst into tears. I hadn't seen my friends or classmates in weeks, and it was amazing to have a face-to-face interaction with someone "
Flanigan was an avid cyclist, and a 15 miler was a regular feature in his routine, which he increased to 30. One day he pushed the limit and visited Davenport. Emboldened, Flanigan included Longwood and Casselberry in his itinerary. The entertainer preferred cyclist-friendly roads. Billy took his show across the vast expanse of the nation. Once on a country drive, he brought his bike and rode across Texas and Arizona before arriving in Los Angeles to surprise friends, some of whom he hadn't seen in decades.
Billy Flanigan is a creative person with a huge heart. Being an entertainer is a way of life and when that gets interrupted, well it's tough. Billy just wanted to stay connected to the people he loved and let them know things will turn out in the end. Putting smiles on their faces was all the thanks he needed. Billy Flanigan chose to do good. How awesome is that?