Small acts of kindness must be appreciated, and this was what Christie Williams Myers did. She posted a heartwarming story on her Facebook page last Saturday morning. The post went viral and raked in 260,000 likes and 125,000 shares.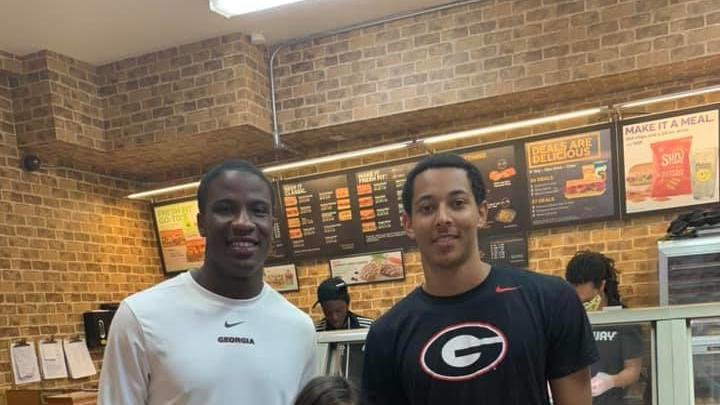 College Age Kids Do Good
Christie Williams Myers and her husband graduated from the University of Georgia back in 2000. Myers, her husband, and their 8-year-old daughter, Avery, were out for an outing in Athens. The couple called the city their second home. While they were out, Avery needed to find a restroom.
Searching for a restroom, Avery found one. However, the employee told her it was only open for a paying customer. Unfortunately, her mom Myers didn't have her wallet to pay for anything. Seeing her predicament, two young men stepped in and said they would buy a cookie for Avery so she could be a 'paying customer'.
Myers learned that their name was Brini and Johnson, and they played for Georgia football. The family was ecstatic since they were alumni of Georgia. Later Myers posted the heartwarming story on her Facebook Post. She also wrote that she wanted to share a feel-good story that will "restore some faith in humanity."
The post went viral, and the family found themselves the talk of the town.
Talking to redandblack.com, Myers said, "What struck me was these college-age kids that don't have kids of their own were able to empathize with the situation, react immediately and do something kind,"
Football head coach Kirby Smart shared the picture and story in a team meeting via Zoom on Monday. Smart also re-tweeted WSB-TV's coverage of the story.
Mother's Heart Swells With Pride
Myers also talked with Brini's mother. The post meant a lot to her and said that she was happy her kids learned to do good deeds when the opportunity arose.
It is a small act of kindness but goes a long way in restoring faith in humanity. What do you think about it? Please give your comments in the box below.