Imagine the relief when someone you don't know comes forward to help you only to realize you don't have your credit card to pay your extra baggage bill while at a New York airport.
This incident happened with a teenage girl at New York airport. She was about to catch the flight to see a sick relative but couldn't pay for her bag. According to a Facebook post published by an eyewitness, an unknown soldier paid for the bag and wished her a happy journey.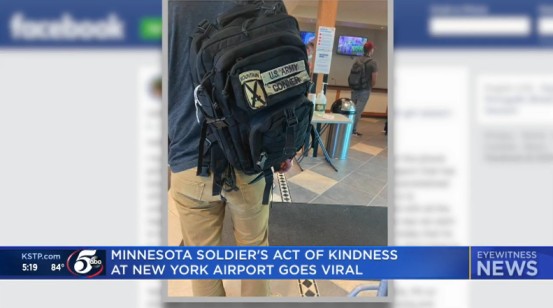 Happy Journey of Love and Kindness
Greg McLean wrote the Facebook post detailing the episode that unfolded in his presence at the Watertown Airport, told KSTP.com.  He said the girl was upset as she could not find her credit card to pay for the bag.
According to the eyewitness account, a 10th Mountain Division Army soldier said. "Don't worry, I got this." He learned about his army background from the patch and last name "Conner" from the backpack. Just to share his act of kindness, McLean wrote the appreciation post on Facebook, and it deservedly went viral.
Social Network of Kindness

The frequency of this kind of act of doing good reaches far and beyond to inspire many more. One friend messaged Michael Conner, who is originally from East Bethel, Minnesota, 'Hey man, good job,' the KSTP.com reported.
The Facebook post went viral, and the 20-year old Army Specialist is receiving kind words of appreciation.
"It's crazy I wasn't expecting it," the portal quoted Conner as saying. "I wasn't going to let her miss her flight for a $50 bag … you know," he said further.
About his act of kindness, Conner thinks this kind of action needs to happen a lot more in life. Conner is currently on a post-surgery recovery leave.
McLean rightly also said that this kind of small gesture could make a huge impact and bring joy to many people. This act of doing good is uplifting and positive. If you know of more stories like this one let us know in our comments section. We love to hear of and tell stories of doing good.