At the age most of us discovered our toes, a South Florida Teen aims to feed 100k families during the pandemic. Celine Churchman is a 15-year-old teen with a heart of gold and has set a big goal. Learning from her friends how the epidemic took a financial toll on families, the teen decided to do something.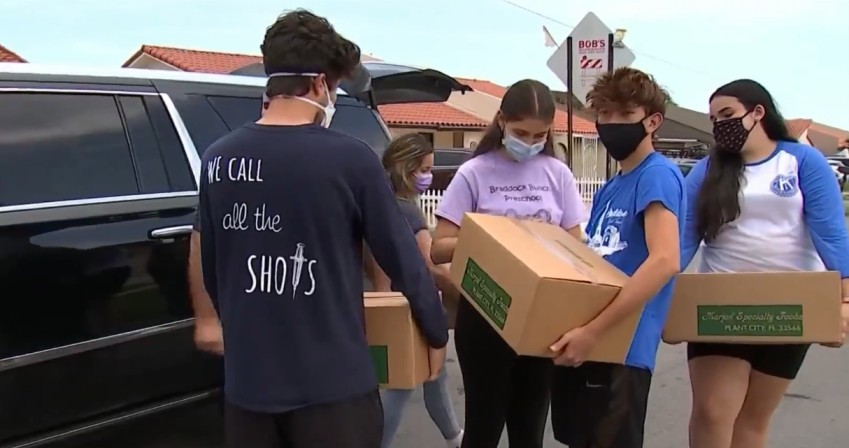 Talking to nbcmiami.com, the teen declared -"My big goal is to feed 100,000 families,"
One after another, the teen heard stories of helplessness and grief caused by the pandemic. Celine decided to use her leverage in her community to do something. Checking sources of free food in South Florida, the teen got help from different sources.
Helping Hands: Bridge to Hope and Its Volunteers
Celine is about to enter her sophomore year at G. Holmes Braddock Senior High School. She is also a part of the Key Club; a group committed to service. She also holds the post of Junior Legislative Aid and Events Coordinator at Sweetwater Commissioner Marcos Villanueva's office.

Villanueva's office gave full support, and Celine was able to coordinate several food distribution drives. Her Samaritan act also encouraged other kids of her age, and a volunteer group formed to distribute food.
The teen's story was aired on Tuesday by NBC in its Helping Hands program.
At the age of three, Wolfgang Mozart played the harpsichord, and by six, he was perfecting his first musical composition. The first symphony followed it at the age of eight and opera at 12. Children often go on to do great things when they are young. An innocent heart like Celine can only gauge sufferings. If adults can feel just like the kids, the world will be a much better place.
Kids are good and do good things for others. If you know of another inspiring story like this, share it with us in our comments section. We'd love to hear it!