Books and Kids are happy twosomes, and nothing can be more satisfying for a booklover than his books. With the epidemic sweeping across the nation, most public reading rooms and libraries are closed. However, Kelly Pasek, a school librarian in Virginia, found a way out of this predicament. Drones have become a mainstay for the delivery of goods, and why not use it to deliver books?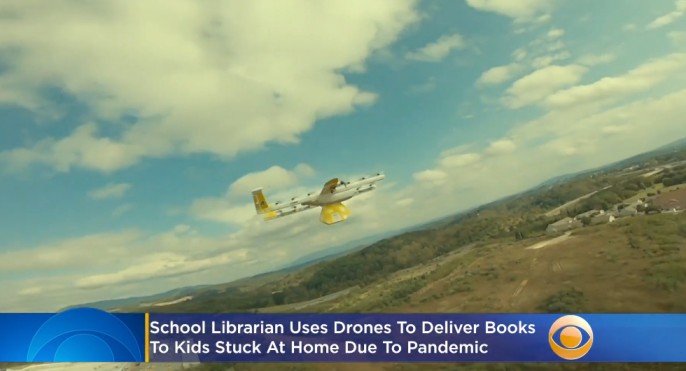 Schools, Libraries Closed
The lockdown comes with its side effects. The most noticeable side effect is loneliness. Books can provide an excellent means of entertainment and can keep the kids occupied. In a video featured in CBS News, Pasek said that as a librarian, she must be in close contact with her wards. Books are not useful only for academics but help for the all-round development of a person. It helps to make them become useful citizens for the nation.
Remote learning began in schools due to the COVID-19 pandemic; it became even more difficult for Passek to contact her students. As a librarian, she closely connects with students who were avid readers and a regular feature in the library.
Sending Books By Drones
Passek's family often used Wing, a drone service by Google's associate company, Alphabet, for essential services. Why not use the same service to deliver books? She immediately contacted superintendent, Mark Miear, who was "immediately on board."
Thus Montgomery County Public Schools will be the first public school system in the world to use Wing to deliver library books to students. Passek coordinated the delivery process with Wings. Students request books through an online form. Passek packs the books in a box and drops it at Wings store. Wing then delivers the books on the specified address by drones.
The service is in its trial stage. Students in Montgomery County can access these services. They can choose their books from the library's 150,000 titles, and have their books delivered right to their doorsteps.
What a creative way to keep kids involved in reading. Reading is the main source of our learning. Who knew drones could do good? Well of course it's the people that are doing the good, just with the assistance of the drones. No matter what this is a great example of doing good for others.