"Whenever a child is born, it shows that God has not lost faith in humanity."
The massive Beirut explosion has killed over 100 persons, maimed hundreds and caused property damage worth $15 billion.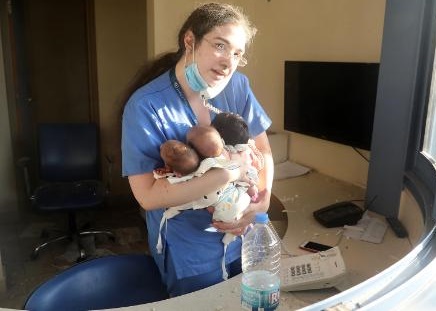 Photojournalist Bilal Jawich was at home when he heard the first explosion. An even stronger second explosion followed it.
Talking to CNN (Arabic), the photojournalist said he followed the smoke until he reached Beirut's port. He knew that the explosion was devastating, and professional intuition took him to Al-Room hospital, in the Ashrafieh district.
Modern Florence Nightingale
What he saw was remarkable. Jawich said, "I was amazed when I saw the nurse holding three newborns. I noticed the nurse's calm, which contrasted the surrounding atmosphere just one meter away. Several dead and injured people lay nearby ".
The nurse seemed to posses some heavenly or divine strength. With death and destruction scattered all around her, she looked so serene and angel-like. Jawich had seen many gory scenes in his career.  However, the grit and resolve of the nurse to save lives surprised him.
Jawich informed CNN that the nurse was on duty in the maternity ward when the explosion knocked her unconscious. Regaining consciousness, she found herself carrying these three children.
Unspeakable Tragedy
The hospital had its share of tragedy. CNN reports that as per George Saad, emergency preparedness and disaster manager for the hospital, 12 patients, two visitors, and four nurses died in the explosion. 80% of the hospital and over half of its equipment stands damaged in the explosion.
It is not clear what caused the explosion as the details are still sketchy. Lebanon has seen peace since a long and bitter civil war in the eighties. It is heartening to hear stories of courage and service in moments of tragedy. What do you think about it? Give your comments in the box below.