Whoever is generous to the poor lends to the Lord, and he will repay him for his deed.
Deuteronomy 15:11 ESV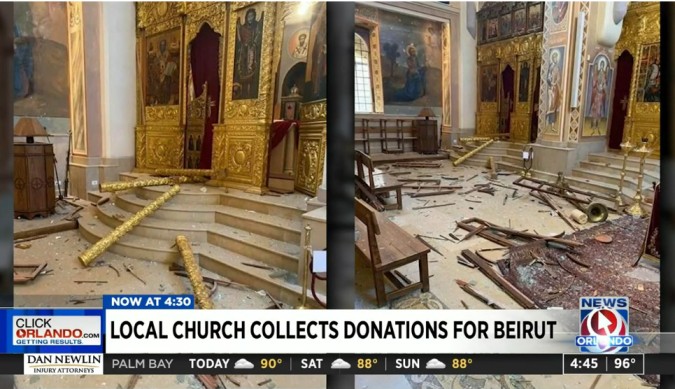 A massive explosion ripped the Lebanese capital Beirut, a few days back.  The blast left behind an enormous loss of life and property worth billions of dollars. In the early eighties, Lebanon saw a devastating civil war. For the last decade, it enjoyed a period of stability and peace.
However, once again, it has been destroyed by the explosion. It needs urgent outside help from the international community. A church in downtown Orlando is doing its part to get much-needed aid to the affected people in Beirut.
Economy Shattered
Father John Hamatie, pastor of St. George Orthodox Church in Orlando, said to clickorlando.com that the explosion had dealt a big blow to Lebanon's economy. Though there is enough food, people have no money to buy it. Rev. John has asked people to donate money generously to the city's suffering population.
Hamatie has been a regular visitor to Lebanon since 1971, and the nation is very close to his heart. Tears welled in his eyes when he talked with Clickorlando.com. He has seen the country go through many triumphs and tribulations. Despite his hectic schedule, he made it a point to visit every year.  The link with the Middle East nation is understandable. The Rev. Pastor's grandparents immigrated to the US from Lebanon before he was born.
Paris of the Middle East' Beirut was once known thus. A cosmopolitan population, coupled with democratic ideals, made it one of the best places to do business and commerce. However, a civil war caused by big power competition devastated it in the 1980″ s. Only in the last decade, the city was once again prospering.
Hamatie told Clickorlando.com, "We have the only orthodox hospital in the world, the St. George Hospital in Beirut on the par of the Mayo Clinic.  70% of it has been destroyed. It was felt in Cypress 150 miles away. "
Non-Sectarian Aid
The church is non-sectarian, and the aid open to all irrespective of religious affiliation. Hamatie added that it is such a pleasant city; it's such a beautiful place to go. The scenery, the people of all different backgrounds, can be seen in very few places.  It is a tragedy, and I pray that they can rebuild.