Cities across the country are being severely impacted by major weather storms, including Cedar Rapids, Iowa. What sets apart the freak storms in Iowa is the fact they were Derechos. Derechos can create winds above 100 miles per hour and cause catastrophic damage.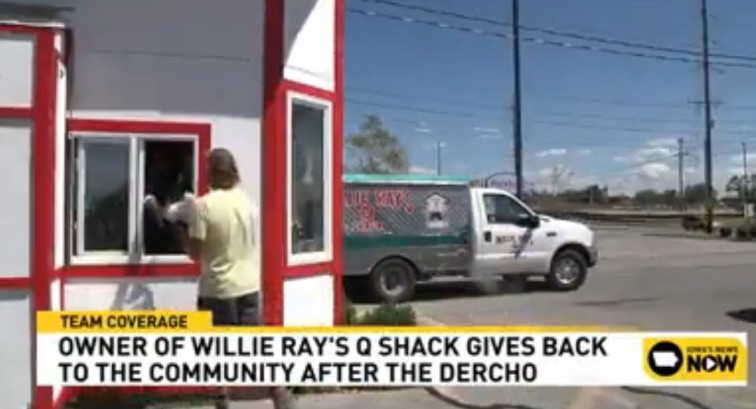 Iowan Willie Fairley finding a way to help those in need
Multiple Derechos tore across a swath in the Midwest on Monday, August 10, leaving a swath of destruction in their wake. This caused Willie Fairley to volunteer his time and services to provide 400 free meals a day for those in need. Willie Fairley is the owner of the local eatery Willie Ray's Q Shack.
"[We're] giving out food, doing whatever we can," Fairley told KGAN News. "Help[ing] the neighbors move trees. I brought the grill home and cooked for everybody, and somehow we're here."
Approximately 50 people with storm-related injuries were hospitalized. According to Cedar Rapids Fire Chief Greg Smith, more than 800 residential and commercial buildings suffered full or partial collapse of the roof, walls, ceiling, or floors.
The community has helped Fairley keep his major project alive
Fairley set his work in motion, and social media has kept it alive. He's receiving countless donations. He told CNN that the main reason they're continuing is that there's been plenty of donations to help him keep feeding people.
While the aftermath cleanup is being completed, Fairley will continue to provide meals for a homeless shelter once a week. Thomas Clark is a friend of Fairley's who has been preparing and distributing the meals. Clark and the community are also proud of Fairley coming out and starting with nothing, just to do it.
The community has so appreciated Fairley's good deed, that his business Willie Ray's Q Shack has been nominated for the "Discover Eat it Forward" program, which awards $25,000 prizes to Black-owned restaurants.
It's great to see a business owner use what they have to help those displaced by these recent storms. Fairley has also become a community icon for his good deeds. Share your thoughts in the comment section below.