Adversities and failure can make or break a person, for some failures are the first steps towards success. It is better to search for the silver lining in the darkest of clouds.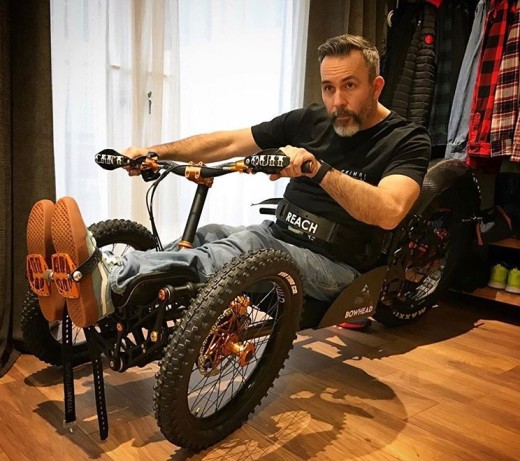 A snowboarding accident brought the fast-paced life of Christian Bagg to a screeching halt. Outdoor pursuits were Bagg's soul, and he was left bedridden for days. However, he was determined to be back to his first love –the mountains.
Bagg told Goodnewsnetwork.org that he wanted to go and have fun with his friends. He did not want his friends to worry or wait for him to catch up with them.
Custom Made Bike
Thus began Bagg's long search to perfect a wheelchair that could offer greater comfort and versatility than traditional models. He focused his attention on creating a line of all purpose-built bikes for people with physical limitations.
Bagg spent hours studying different models. Finally, he created 'Bowhead Reach,' a unique bike. Bagg's own experience taught him the physical limitations experienced by the differently-abled person.
The bike's main wheel is in the rear, massive tread tires and a powerful electric motor enables the reverse tricycle to go almost anywhere.
Adding Mobility
Bagg's creation quickly earned a name for itself. Orders were coming thick and fast. Fulfilling the orders became a challenge for Bagg which includes a long waiting list.
One of Bagg's first customers was J.P. Middleton, who also suffered a life-changing spinal injury paralyzing his limbs. Formerly a volunteer firefighter and primary care paramedic before the unfortunate accident. Middleton saw the bike in action one day while visiting a rehabilitation center. He made up his mind to get one.
The all-terrain recumbent bike is available in three different models- a recreational model for the common man, a performance model for those who want to push to the limits of endurance, and an explorer mode that allows for partnered assistance. There is a unique model for people with quadriplegia also.