Natural disasters can hit at a moment's notice, leaving many people's lives in shambles. However, one McDonald's franchise owner helps those in Lake Charles, Louisiana, who were left with no food. He is making sure they have food and giving them free meals.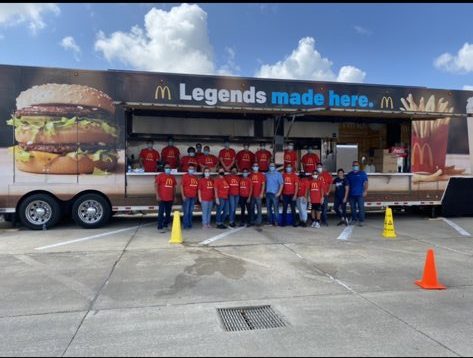 McDonald's Franchisee Good Samaritan calls for McRig
Franchisee Rikesh Patel introduced the community to Mcdonald's "McRig." The fast-food chain's version of Meals on Wheels. Laura is the most powerful hurricane to hit Louisiana since 1856. With widespread flooding, downed power lines, and extensive damage to homes and businesses, residents were left without power, running water, and many other necessities.
Moreover, Patel owns and operates 25 McDonald's locations within the area and told CNN that he knew he had to do something after seeing the storm's full impact. He figured hot meals would be hard to get for those impacted by Hurricane Laura. So he contacted the corporate office, who sent the McRig down to Louisiana. The rig is a self-sufficient portable kitchen.
McDonald's was able to serve 10,000 free meals for a week
Patel kept the food truck running for a week and served 10,000 free meals of cheeseburgers, fries, and bottled water.
"(McDonald's founder) Ray Kroc believed we must give back to [the] communities that we do business in," Patel tweeted on the fourth day. "Thank you to our amazing crew and managers for making this belief come alive."
Moreover, it's good to see local business owners and a national business leader such as McDonald's step up and help those impacted by a natural disaster. During this time of uncertainty, everyone needs to come together and help each other out. We're all struggling in some way.
Have you had a similar experience in your community following a natural disaster? Share your comments and stories in the comment section below.