Kindness begets kindness, and small acts of kindness are always counted by the almighty. Carlos Valdez and his wife are crazy about pineapple on their pizza.  The couple regularly orders from Papa John's in Roy, Utah. Carlos and his wife always requested that their favorite deliveryman- Derlin Newey delivered the pies to them.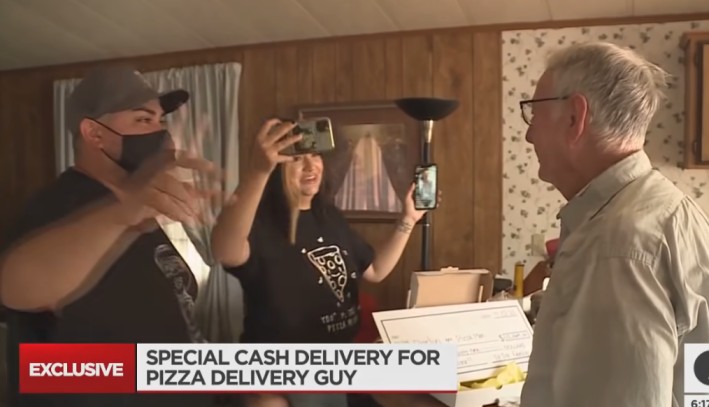 Exude Positivity
The grey-haired delivery man's positive attitude bowled over the Valdez couple. So enamored were the Valezes with Newey's charming manner. They started filming Newey's delivery routine. They also posted his video on Tik Tok. Soon enough, he became a sensation and garnered more than 53,000 followers
Though people loved the elderly gentleman videos, many expressed concern about the need for the senior to put in so many hours on his job.
The Valez's decided to do something for the aging delivery man who brought so much love and happiness in their life. The couple reached out to their fans in hopes of raising a little money to help Newey.
Time To Pay Back
On Tuesday, Newey got a surprise delivery at his own home. The Valdez couple was at the door of their favorite delivery, man. Valdez wore a T-Shirt with the message boldly emblazoned -'Hello, are you looking for some pizza?' He carried a check for $12,069, collected from Newey's fans.
Newey was a former ski champion working overtime up to 30 hours a week to add to his Social Security.
He was speechless when Valdez handed him the check. The generosity of so many strangers moved the senior citizen to tears. Talking to Desert News, Newey said that he doesn't know how to thank you to so many unknown donors.
The Valdez couple's sweet and contented feeling of having done something for the man who brought food and happiness was very satisfying. It once again reaffirms our faith in the almighty, and the world is changing into a good place.