When I was a young teen growing up in southern Illinois I was part of a church youth group. One of our favorite things to do each Christmas was go caroling.
Partly I liked that because it ended back at the church for hot chocolate with marshmallows to warm us up, then a chili dinner. I don't know if our singing was as good as all that, but I loved it.
The town was small, so we knew where folks lived who were shut in, or had no family around, or were just plain lonesome. That's where we went, and we could see that we were making a difference in these people's lives. I didn't think of it as doing good, but it was.
Of course we sang the familiar Christmas songs, and we sang the familiar verses. We approached singing Jingle Bells, then added The First Noel, Away In A Manger, O Little Town of Bethlehem, and of course Silent Night. Then we ended with We Wish You A Merry Christmas. Great fun!
When folks sang along with us we loved it. When they clapped or smiled, we loved it. I often wondered who was getting the most benefit. I'm sure it was us.
What's Behind These Songs?
For quite a few years Gary Dugan and I wrote songs together. We knew each other from work and church, but mostly work. One day he asked me to write some lyrics for a song he was working on. He had some lyrics of his own but didn't like them, so he took a chance on me.
That worked out well, much to my surprise, and we kept writing. One of the questions I was asked most often about songs we wrote was, "What's the story behind that song?" That's a fine question that sometimes has an interesting answer, but the truth is that what a song means to you is more important than what it meant to the lyricist.
Nevertheless, here are some stories you may find add to the meaning.
World War I
According to a very well done article that appeared on Crosswalk.com last year, at least three well known Christmas songs have connections to war.
The first of those is Silent Night, which was not written during war time but was definitely sung during a war. Not by a traveling USO group, or by a star performer, but by soldiers during a cease fire.
The song was actually written in a tiny village in Austria. Franz Gruber and Joseph Mohr wrote it as a simple song, and (as the story goes) used a guitar in place of the church organ, which was damaged. Soon the song spread around the world.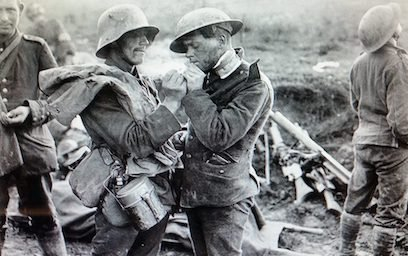 On Christmas Eve, 1914, troops from Germany, France and England all faced each other on the battlefield. They were in the trenches and ready for a battle when a cease fire was called. Free from harm, soldiers came out of the trenches on both sides, greeted each other, played games and smoked cigarettes.
Because it was Christmas Eve, they sang Christmas carols together, including Silent Night in its original German. It was, for them, a far too rare and a most precious silent night.
The Civil War
Phillips Brooks was not yet 30 and had been preaching about five years when he was asked to preach the sermon at the funeral of Abraham Lincoln. He must have done well, because just after the war he was asked to give the sermon at Harvard's commemoration of the Civil War dead, which he did.
Exhausted from the war, from his battles against slavery, and from the rigors of his work, he took a break from it all. He traveled to the Holy Land, no small journey in 1865, hoping to find some peace.
When he arrived at the town where Jesus was born, he looked over the then insignificant place and thought, "O little town of Bethlehem, how still we see thee lie. Above thy deep and dreamless sleep, a silent star goes by." Thankfully, he wrote down those four short lines.
Three years later he wrote the rest of the verses to the song, and asked his church organist, Lewis Redner, to write some music for it. That in itself is a story, and neither man thought the song would last beyond that Christmas of 1868. But it did.
Touching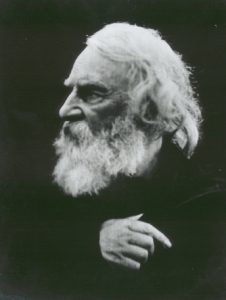 Perhaps the most personal and touching of all the Christmas hymns stories is the one behind I Heard the Bells on Christmas Day. That also has a Civil War connection, but one that is much more personal. The lyric was written first as a poem by Henry Wadsworth Longfellow.
Word came to Longfellow that his son Charley had been badly wounded in the Civil War, and Henry went to find him. When he did, he got him good medical care and got him home, but Charley still had a long recovery ahead on Christmas Eve, 1863.
Longfellow had not written in many years, but he sat down and wrote out his despair, and then his hope:
And in despair I bowed my head;
"There is no peace on earth," I said;
"For hate is strong and mocks the song
Of peace on earth, good-will to men!"
Then pealed the bells more loud and deep:
"God is not dead, nor doth He sleep;
The Wrong shall fail, the Right prevail,
With peace on earth, good-will to men."
Inspiring
Two years ago the group Gentri (The Gentlemen Trio) released a Christmas video of The Little Drummer Boy. It was shot at Park City Hospital, with real patients. As my friend Chuck (who sent the link) noted, "The looks on the kids' faces is worth the few minutes it will take you to watch it." He was right!
Finally, if you happen to be old enough and in a long enough marriage this last song will touch your heart. It's one of those "Christmas and love" songs I talked about in this week's newsletter. Love takes center stage here, but Christmas brings out the gift of the Thank You.
The song was written by Mark Manio and Pentatonix and is performed by Pentatonix, one of my favorite groups. Because the words are so important, I'm linking to a video that shows the lyrics rather than the singers.
Enjoy this, and I'll get to some of my songs in another post. In the meantime, Merry Christmas, and thanks for reading!