Have you ever been invited to something and you didn't know what it was? And you went anyway?
Most of us started getting invitations to things before we understood exactly what that meant. If I were a mentalist I could "get into your memory" and tell you that your first invitation was to… a birthday party!
The invitations continue to roll in today, though seldom for birthday parties. I was invited the other day to a budget meeting, for instance, and I accepted. This morning I was invited to play golf, and I declined.
I would rather play golf than go to a budget meeting, just to clear that up. But in both cases I understood what the invitation was all about.
About fifteen years ago an invitation arrived that was new to me. Barry Landis sent the unexpected invitation.
Barry and I met at a music conference in Colorado. At the time he was an executive at a major record label in Nashville and I was brand new to the industry. My songwriting partner and I went from California to the conference with some ideas and hopes that were ill defined. But we went, and a lot of good things happened.
One of the best was meeting Barry. At the time, neither of us had any idea just how important that meeting would turn out to be. And we wouldn't know for a long, long time.
No accident
I need to tell you that our meeting was not luck and it was not a coincidence. That meeting was, as one friend calls such things, a divine appointment. God arranged it.
If I told you the circumstances you would agree. Perhaps one day I will write about that because it is so cool. For now suffice it to say that we met and worked together on a very big project. At least it was very big for our little company.
Several years later I was finishing work for the day when I saw in my email an invitation from Barry. "Please come to a Design Workshop in Nashville."
A what? I had no idea what a Design Workshop was, and nothing I could imagine it might be appealed to me. The purpose was to think about something called The Briner Institute. Again, no idea and no interest.
But it was from Barry, so I went. That, I can tell you now, was a good call. (And that last sentence was an understatement.)
It turns out that a Design Workshop is kind of a short-term "think tank." There were about 80 of us. We discussed big items in small groups then shared our thoughts with the full group. We taped our flip-chart pages to a wall while a scribe captured everything on a white board.
At the end of almost two days of that I said to Barry, "If you ever have another one of these, please invite me."
2019
Sure enough that happened, and this time I invited Mitch, our CEO, to go along. The fun thing about that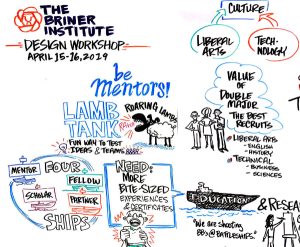 was, Mitch had no idea what a Design Workshop was all about. He was just like me all those years before, and it made me smile.
And, just like me, he loved the workshop as soon as he got into it. From breakout sessions to full group sessions, from the whiteboard scribe to the comments, it was amazing. Interestingly, Mitch and I heard the phrase "do good" over and over at that workshop.
Mitch and I spent the year working on Do Good U in our spare time, along with Bill Belew and Parashuram Shalgar. Parashuram wrote the great majority of our early blog posts, finding people "doing good" all over the world.
When 2020 came along we were ready to rock and roll. Our hearts were in the right place, but our timing was off. No one at Do Good U ever caught COVID-19, but the company did.
As my grandpa used to say, "Something like that can put a hitch in your giddyup." The pandemic slowed us down, but it also gave us the time and an opportunity to add a new partner to the mix, Allen Beck. Allen has a PhD in Industrial/Organizational Psychology. Which is a fancy way of saying he understands parts of companies and organizations in a way many business people don't.
And it gave me a chance to reconnect with Barry in late 2020.
Ouch!
Near the end of 2020, Barry and I, for a reason I can't remember, ended up on the phone.
Of course we had "stayed in touch" through the years. He moved from running a record company to marketing movies, and business sometimes brought him to Phoenix. Any time we talked it was good, but this conversation last year was different. Barry picked up on it first. That led to another talk, and another.
Somewhere in there Barry said, "You need to have a Design Workshop for Do Good U, and I'll help you put it together." Wow!
I got excited and got Mitch and Allen excited, and then Barry got sick.
Over the next few months, the time when we would have been working on the workshop (we planned it for May) Barry was extremely ill.
God's timing
… is always perfect. We couldn't get Do Good U ramped up because of COVID, and we couldn't do the workshop in May because Barry was in the hospital. But (thank you Lord) Barry is well now, Do Good U is ramping up, and we are having our very own Design Workshop in September!
Because you have read this far, you are invited. The event is free, and attendance is by invitation only.
And now you can answer yes to the question, "Have you ever been invited to something and you didn't know what it was?"
To learn just a little more, and to register, simply go to this page.
We hope to see you in Arizona in September, but in the meantime — and always — do good!