When I walked into the room Monday morning, the guests had not arrived. Three members of our team were preparing the check-in table, but the tables and chairs were empty and the walls were blank.
By the time I left Tuesday afternoon the walls were blank again, and the chairs and tables empty. But in between? As Jed Clampett used to say, "Weeee doggies!"
Not that I walked in knowing it would be awesome. In fact I wondered what the next two days held in store for Do Good U.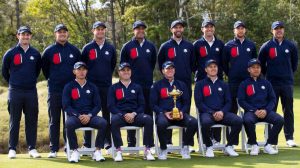 Take a golf course (Whistling Straits), bring in twelve of the best players from Europe and twelve from America, open it up to golf fans from around the world, and you know what you're going to get. Go to Madison Square Garden, put a superstar on stage and ticket holders in the audience, and you have an idea what will happen. So do churches, lecture halls, movie theaters, and baseball games. I did not.
This gathering was not, like most of those I've listed, intended for a passive audience. Not that sports fans are always passive, to be sure. I've even seen some church services that were pretty active. However all of those audiences are generally spectators.
These people were invited for a specific purpose, and it was not to sit and listen. It was to listen, think, and then tell us what they thought.
And did they ever!
If you were one of those people, thank you! Every one of you. In spades, as the bridge players say.
You are invited
It all began about a year ago in a phone call. I don't remember how or why, but for some reason I was talking to my friend Barry Landis and telling him about Do Good University. He loved the idea, and I appreciated that.
"Do you know what you should do?" he asked. "You should (answering his own question) have a design workshop, and I'll help you put it on."
"That sounds great," I said, and I'm pretty sure there was a question in my voice that he completely ignored.
As it turns out it was great. If you have a company that has some big, tough issues to deal with and think about, you too should have a design workshop. That is, if you are brave, confident, happy to argue your point, and serious about finding high quality answers.
I won't give you the whole process, but it culminates with those people.
We invited a lot of people, all with one criteria in mind: we wanted every one of them to be a critical thinker.
To quote from Wikipedia:
Critical thinking is the analysis of facts to form a judgment. The subject is complex, and several different definitions exist, which generally include the rational, skeptical, unbiased analysis, or evaluation of factual evidence.
In fact there are at least ten definitions of critical thinking listed at the link above. If you can pick one of those as your favorite and defend it, you, my friend, are a critical thinker.
In they came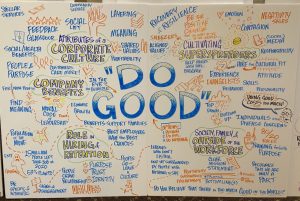 Before I could reflect long on the coming days, I was asked a question. Before that was resolved, guests starting arriving.
We expected a few more than 50, and about 45 were able to make it. There were women and men, boomers and millenials, workers and retirees, entrepreneurs and those with corporate careers. One fellow wore shorts, sandals and a tee-shirt. Another wore slacks, a dress shirt, and a jacket. A few brought an iPad or a laptop. They all brought their brains and experience.
I knew several of those attending and had invited them, but there were several I didn't know. With all of those differences, there was one thing they had in common: they were there to help.
We are now deep enough into the article that I can tell you I was humbled by their attendance. They all paid their own way to get there and paid for their own lodging. There was no charge for the event, but there was also no pay. One person flew in from Florida, some came from California, others came from Tennessee. As I looked out across the room and spoke, there was a choke in my voice.
Just the fact that they came, giving of themselves and their time, motivates me more than you can imagine.
For the next two days those people thought, discussed, disagreed and created. Great ideas were formed along with new friendships. It was, to quote a Bible verse, more than I could ask or imagine.
Special treats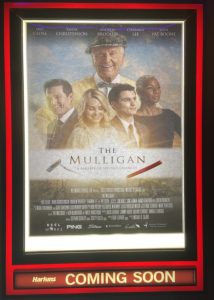 On Monday night we took everyone to the movies! Our friend, movie producer Rick Eldridge, flew in from North Carolina and showed us a pre-release version of The Mulligan. The movie will be in theaters next April. When it is released, go see it. Here is a heads up for you — Pat Boone is awesome!
On Tuesday morning, President Brian Mueller of Grand Canyon University spoke to the workshop participants. GCU is one of the fastest growing universities in America, and that is impressive. The student body numbered 900 just thirteen years ago and is almost 26,000 now.
Even more impressive, GCU is involved in doing so much good that I could write an entire post just on them. One day I will.
And did you notice that artwork above? Peter Durand is a professional scribe, and he put our words into pictures in an incredible way. We'll put those on our web site next week, and you'll "see" our work.
Thank you Brian, Rick, and Peter. You are all amazing!
The bottom line
I'm going to wrap this up with an observation: God is in this. He has been from the start, and he is now.
I don't know the future of DGU any more than I knew the next two days when I stood in that room Monday morning. I do know, though, that we are going to bring a lot more good into the world.
Do good. It's in you.