There's an old joke about a guy who, after church every Sunday, compliments the preacher by saying, "Keep preaching, Preacher!" Then one Sunday he walks out without a word, so the preacher stops him as he's walking away.
"What happened? Are you OK? You didn't give your usual encouraging word."
"That," said the man, "is because today you stopped preachin' and started meddlin'."
I know just how the man feels. The extra government intrusion into our lives the last 20 months or so has been generally tolerable. A tiny bit of it might even have been defended.
But the San Francisco Health Department shut down the In-N-Out Burger store at Fisherman's Wharf, and I call that meddlin'!
The store reopened shortly thereafter, but without dine in services. As I am writing, that is still the case. Golly!
What's it all about, Alfie?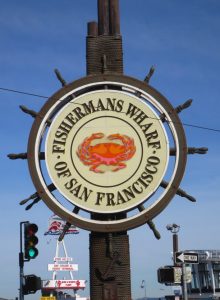 In San Francisco there is a local mandate that restaurants are only allowed to have guests dine in who show a vaccination card. Guests can still dine outside without a card. (There is no drive through at Fisherman's Wharf.)
This clever bit of manipulation (in theory) will make people want to get vaccinated so they can enjoy their favorite spots. It will also (in theory) keep Covid from spreading because everyone inside, where spreading is more likely, will (in theory) be Covid free.
Of course it also causes the restaurant to act in the place of the health authorities. And that's where it gets a little dicey.
"We refuse to become the vaccination police for any government," Arnie Wensinger, the chief legal and business officer for In-N-Out, said in a statement.
He added, "It is unreasonable, invasive, and unsafe to force our restaurant associates to segregate customers into those who may be served and those who may not, whether based on the documentation they carry, or any other reason."
So they kept serving anyone who came to the restaurant without asking them for proof of vaccination.
Me and In-N-Out
I went out to California in the early 90's to visit my friend, and we went to In-N-Out. Back then they called your name when your order was ready.
Quickly I was into the "secret" menu, ordering my Double-Double "animal style" and my fries "well done." Dave had worked for an ad agency that had pitched In-N-Out, so he was a definite expert.
He also pointed out that there was a scripture reference printed on the bottom of the drink cups. And there was one on the french fry boat, the burger wrapper, the milk-shake cup, and the Double-Double burger wrapper. They are still there. In fact blogger Chris Aldrich wrote a post in which he reported placing his order at an In-N-Out using only the scripture references. Clever.
But it isn't the scripture references that keep me going back to In-N-Out, though I like them. It isn't the quality of the food, though it is excellent. It is the experience.
That experience is always good and virtually the same no matter which In-N-Out I visit. How many chains of any kind can you say that about?
Make your list then ask yourself what they have in common. A big part of the answer will be…
Standards
Last week I wrote that we needed a moral standard, and we do. Many companies, unfortunately, have taken little time in defining any standards.
If you go to the In-N-Out site and click on Join Our Team, you see it immediately. One sentence in their opening paragraph stands out to me.
Quality is our most important ingredient in everything we do, and that's why people who join our family have to be the best.
How do you imagine In-N-Out executives decided what to do in San Francisco? Did they simply look at the numbers and decide they really wanted to keep inside dining open? That would give them the chance to pay more associates and make more money. Many restaurants did that, and turned their staff into "vaccine police."
Do you think In-N-Out said, "We don't like the approach being taken, turning our staff into government lackeys, so we'll just shut down the inside dining and not make any waves?" Many restaurants did that, too.
Because they have high standards they were able to take a stand and be who they are. They would not be "vaccine police," because that was not fair to their associates.
Fasten your seat belt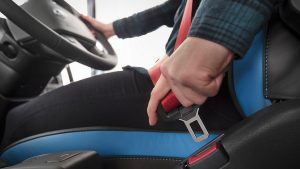 Many of you are part of companies that will have to make decisions like San Francisco businesses had to make. On November 7, as I understand it, a vaccine mandate is going into effect in Los Angeles. Some places in New York and New Orleans have similar laws. What will you do?
About thirty five years ago, people asked that question about seat belts.
Before you say vaccinations are different than seat belts, the History Channel article about them says this:
When David Hollister introduced a seat belt bill in Michigan in the early 1980s that levied a fine for not buckling up, the state representative received hate mail comparing him to Hitler.
History repeats itself, as it is wont to do, and so do we. So fasten your seat belt — vaccine discussions are not over.
Our protests are mostly ideological, and they are often appropriate. There are two reasons why I'm glad people protested seat belt laws. Governments needed to hear the voice of the people, and people didn't speak up until they were forced to. Also, the laws and the seat belts and safety of cars were all far better after protests took place.
I believe the San Francisco Health Department was wrong to ask ordinary citizens to be their enforcers. In-N-Out was right to protest as they did. I wish other businesses had done the same.
All citizens of free countries have the right and the obligation to protest when there is cause for it. But once the law is settled, citizens also have the obligation to obey it.
It is the process that makes it all work, and being part of the process is an amazingly cool way to do good.
Do good like In-N-Out. It's in you!