By now you've heard some of the numbers from the massive tornado. It struck middle America Friday night, December 9, and caused damage in at least six states.
It took lives in four.
The primary tornado was on the ground for close to 250 miles.
It spawned 37 other tornadoes.
It lifted debris more than 30,000 feet in the air.
As far as I can tell, all of those are records for a tornado.
Someday in Mayfield, Kentucky, they may talk about that. Right now they are focused on the victims and their families. Most of the town itself was destroyed, and at least 74 people died. Many are still unaccounted for.
Just last week I wrote about humanity, and I talked about the fact that tragedies which occur "far away" tend to move us less than those close to home.
Now here we are, with an opportunity to be emotionally moved. Are we?
Yes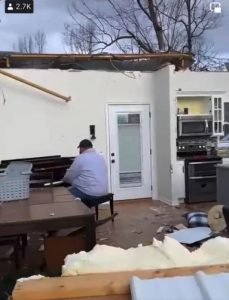 That was seven days ago, and while in today's news cycle that is "old," people are still writing and talking about it. The number of people who died pales in comparison to Covid, but the 88 people who died in Kentucky and the six Amazon workers who died in Illinois were real people.
We mourn their loss, and we feel for their families and friends. At the same time, we are thankful for all who survived. The governor of Kentucky, Andy Beshear, said the death toll from a candle factory in the town, while devastating, was "a miracle." "If you saw it in person," he said, "the level of absolute destruction in one place is hard to describe."
The youngest victim in Kentucky was 2 months old. The oldest was 98.
All of that information helps us care because it helps us know the people. One video, taken in Kentucky after the tornado, shows a man whose house was destroyed. But his piano was still there, and he sat down and played. (Click the image to watch the 43 second video.)
Hope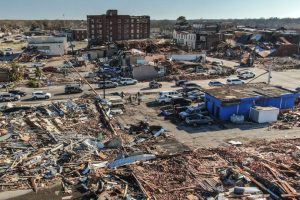 In Arkansas, where the tornado got started, Linda Knapp was caring for one of the residents at a nursing home. She had just helped the man get into the restroom when the winds hit, ripping the roof off the building. She told the man to grab a rail and hold on, and she leaned over to shield him from falling debris. When the winds finally stopped she had to pry her way out through a blocked door to get her patient to safety.
About 100 miles away in Graves County, KY, they knew the tornado was coming. The county jailer, 55, was babysitting his 6 year old granddaughter. He strapped a baseball helmet on her, a football helmet on himself, and they sheltered in a closet.
The Wall Street Journal reported, "She was fine until I couldn't keep calm anymore," he recalled. "She saw the fear in my eyes. When she saw that, she couldn't hold it together." But they survived and went into the town of Mayfield.
It was the next day when the jailer learned that the seven inmates he had arranged to be on work-release that night all survived. But Deputy Robert Daniel did not. He moved all seven of the inmates behind a thick wall. Just as he got the last inmate to safety and turned away to help other people, the building collapsed and he was killed.
Why?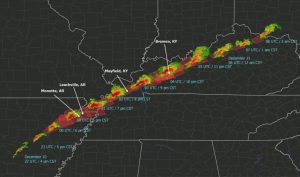 "Why did this happen?" I asked silently when I first saw news of the tornado, "What is God trying to tell us?" Not expecting an answer, and not even knowing if I was asking a good question, I moved on.
I landed on this idea: "Think of the power in that tornado. We think we humans have power, and we do, but we have nothing like that."
What militaristic nation would not want to weaponize the weather if they could? Imagine being able to summon a hurricane or a tornado or a hail storm. Take it beyond that to earthquakes, tsunamis and volcanic eruptions.
Thankfully, in all of history the only one who could use and has used such powerful forces is God himself.
Now you may say that incidents recorded in the Bible are only myths. You may say that these were natural occurrences ascribed to God by unscientific people who couldn't understand. Without a belief that God exists, such explanations are required.
On the other hand, if God did create the universe, including the earth, it makes sense that God could control his creation and cause deviations from the norm.
I'll write a little more about that in a couple of weeks, including some thoughts on an amazing new telescope. One press release said it would "be able to see farther back in time" than the Hubble. It is called the James Webb Space Telescope, and it is scheduled to launch on Christmas Eve at 7:20 a.m. EST. I'm excited about that!
Out of our control and in our control
A lot of money, time, and energy (no pun intended) is being spent trying to control the temperature. We can do that in confined spaces like buildings — even very big buildings — but not so much in open spaces.
What we can control is our reaction to what happens. Like the man pictured above, playing the piano in his now destroyed home, we can be thoughtful. Like the governor of Kentucky, we can be thankful that the loss of life wasn't much greater.
Like Samaritan's Purse, or like 1,000 students from Liberty University, we can show up to help. Like volunteer police and doctors and nurses and just plain people, we can lend a hand. Or like the work-release prisoner who got lost in the chaos, we could choose not to run away but to face justice.
Times of great trial test us greatly. Do we have courage? Are we caring? Will we do good?
We will find answers in the tornadoes of life, and they will all be about who we are.
Do good. It's in you.