A few years ago there was a movie with a very scary plot.
Not monster-under-your-bed scary, it was worse than that. It was monster-inside-you scary.
The name of the movie was Indecent Proposal. I haven't seen it and won't. Who wants to be scared like that? Besides, in spite of a solid cast it was nominated for worst picture by the Razzie Awards. (It didn't win. Lose. Whatever.)
Basic plot: a billionaire is attracted to a beautiful girl and offers her and her husband $1,000,000 to spend the night with the wife. He wanted her and knew they needed the money, desperately.
What would you do if you were the husband? The wife?
There is a way of thinking developed by Joseph Fletcher called situation ethics. What Fletcher actually wrote about was moral relativism. That basically means your moral choices depend greatly on the situation.
The classic example I heard many times was this: A man walks into a bar, sits next to a young woman and strikes up a conversation. After buying her a drink he says, "I like you, and I'd like to spend the night with you. Will you sleep with me for $100,000?"
She's taken aback a little. Then she says, "You seem nice enough. Yes, I will sleep with you for $100,000."
"Great," he says, "but that's more than I can really afford. Will you sleep with me for a quarter?"
She's livid and says, "What kind of a girl do you think I am?"
And the fellow replies, "Oh, we've already established that. Now we're just haggling over price."
Hard choices
Life is filled with choices — some say as many as 35,000 each day. Most of those choices are of little consequence, but some of them are life changing.
The big question is, how do you make choices? Do you make them based mostly on the situation, or do you have a standard you lean on?
In the world of professional golf that is a "real time" question. Even if you don't follow golf you may have heard about the LIV (rhymes with give) Tour.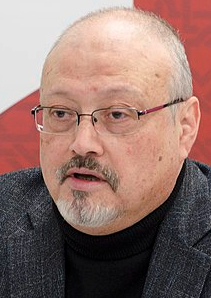 It started in Saudi Arabia, a country known for oil, desert, and murdering Jamal Khashoggi. The same Saudi government that authorized (or perhaps ordered) his assassination is the funding source for LIV. (Roman numerals for 54, which is how many holes they play.) It is sometimes called "The Saudi Golf League."
Critics of this new golf venture call what they are doing "sports-washing." Having high-profile athletes compete in a golf league certainly helps Saudi Arabia look good, and that may be their ultimate goal.
Whatever their purpose, they've pledged $2 billion dollars to achieve it.
And that created, for some professional golfers at least, a very hard choice.
Free agency in golf?
Professional golfers are independent contractors. They pay their own expenses and earn their own income. Some get endorsements from sponsors, some get speaking fees and fees for clinics.
Those who are members of the PGA Tour, an association, have earned that membership through playing. That still doesn't get them in every event, because some fields are limited. It is, in short, a very tough way to make a living.
In terms of big time sports, professional golfers are among the lowest earning athletes. Yes, some of them make a lot of money, but most of them don't. This year to date, the top earner on the PGA Tour, Scottie Scheffler, has won $11,215,187 in 17 tournaments.
He has also paid all of his own expenses, including travel, meals, entry fees, caddie fees, etc. And so has the fellow at number 226 on the money list who has played in 14 events and won a total of $57,701.
In other words, #226 may have already spent more money trying to make a living than he has made. You can see that an opportunity to have a guaranteed income doing what you love to do would be enticing.
And I do mean guaranteed, because on the PGA Tour only about half the field gets a paycheck each week. On the LIV Tour, everyone gets paid every week. Last place this week (48th) will be worth $120,000. First? $4,000,000.
The bottom line
What this comes down to is a very big income increase for — currently — a very small number of golfers. Several of those golfers are already quite wealthy, but almost everyone wants a little bit more.
When I worked in high-tech I saw a lot of people jump ship from one company to another for stock options. Sometimes those paid off and sometimes they didn't. But people knew what they wanted: more money.
One big wrinkle with the LIV Tour is the Saudi connection, and different people have processed that differently.
Jack Nicklaus, who no longer plays golf, confirmed he was offered $100,000,000 to be the face of the Saudi league. Greg Norman, who took on that role and is the league's CEO, said that Tiger Woods was offered something in "the high nine figures." He said it in a way that indicated his surprise that anyone would decline an offer like that.
But Woods did decline, and so did Nicklaus. Twice.
So have many others. Some have done so out of loyalty to the PGA Tour, some out of not wanting to be associated with the Saudi government. Others are undoubtedly waiting to see how it "washes out."
And you?
Perhaps you don't think the Saudis are so bad. A friend of mine said, "You have an iPhone, and some of that is from China." Personally I think those choices differ in kind, not degree, but maybe I'm wrong.
I'm not condemning or condoning the pros who are playing the LIV Tour. I don't know their minds or hearts. But I am challenged — and I hope you are — by this question: do you, like the girl in the bar, have a price that would change your answer from no to yes in a moral dilemma?
Let me know in the comments what you think.
Do good in your choices. It's in you.