Being in the business of encouraging people to do good has some fun perks. One of those is hearing true stories of people doing good and feeling the joy they feel.
That happened just a week ago when I was with my friend Mark Nelson, the Assistant Director of Club Sports at Grand Canyon University in Phoenix.
He said, "Did I tell you the story about Aaliyah?" And when he finished I said I had to write about that on Do Good U. This is that story.
It started with a chair
Mark and his wife enjoy estate and garage sales and earn a little spending money by shopping smart then selling things online for a modest profit.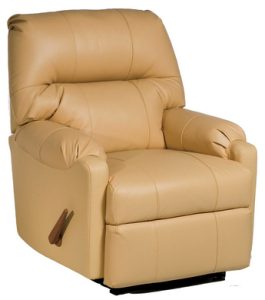 In the fall of 2021, a fellow named Jarret bought a recliner chair from Mark and came to his house to pick it up. Mark offered to help Jarret load it in his truck. Mark asked if Jarret had come far for the chair and learned they were staying with friends.
His wife had been rocking their younger daughter at the friend's house when the chair broke. He was buying this to replace that chair. But they were in town from farther north in Arizona because their older daughter was starting chemo the next day.
She had just been diagnosed with a rare pediatric cancer called DIPG, an aggressive type of childhood cancerous tumor that forms in the brain stem.
Very difficult to treat, DIPG generally comes with a life expectancy of around nine months.
Mark's heart broke like the chair that was being replaced. He and Jarret talked for more than an hour.
In part of that time Mark, who is a man of faith, encouraged Jarret that prayer still works and God is still in the miracle business. He said he knew from his own experiences that miracles don't always happen, but sometimes they do.
Sharing
I love the old Jewish proverb that says, "A shared sorrow is half a sorrow, and a shared joy is double joy." To add to the support, Mark shared a post about Aaliyah on his Facebook page.
A childhood friend of Mark's from his hometown — they had not stayed in touch — named Mike Smith was moved by the story. He reached out to Mark and asked if there was a sports star or celebrity Aaliyah really liked.
He went on to say that he would sometimes reach out to agents of such people to see if they could encourage a child or add to their hope. It was his own thing, he had had some success, and he wanted to try to do that for Aaliyah.
Mark contacted Jarret and learned that Aaliyah really likes Frozen, and especially Elsa, and (I'm sure) Let It Go. With that information, Mike tried to reach the agent of Idina Menzel.
Unfortunately he had no luck, but he definitely tried.
Time passes – a solution comes along
Mark stayed connected to Aaliyah's parents, and Aaliyah kept fighting. Then, in early October of 2022, Mike messaged Mark again.
He had actually gone to Los Angeles to the office of Idina Menzel's agent.
Mark said his initial reaction was, "I was shocked that this was still on his heart a year later!" But the agent's response was the same, and Mike said, "No luck."
Then Mike asked if Mark had any connections to the music department at Grand Canyon University. He said they might have some sopranos who could sing Elsa's part, then he asked, "Thoughts?"
And suddenly it dawned on Mark that one of the Club Sports groups at GCU is a cappella. Though he knew one of the student leaders, Mark doesn't oversee that group, so he went to the administrator who does. Jim said he would text Jackie (the student) to see if she could give them some advice.
Jackpot!
Jackie had more than advice — she had an answer. In fact, she was the answer.
First she responded to the text saying she was available to talk, so Jim called. With Mark on speaker phone, he told Jackie the story of Aaliyah and how she loved Elsa from Frozen and how they wanted someone to sing to her.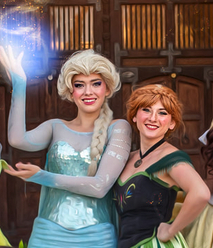 "Wow," she said. "I actually play Elsa for a company called Enchanted Entertainment. We go to kids parties in costume as Disney characters. I would love to sing for Aaliyah. Let me ask my manager if it's OK."
I'm pretty sure the smiles on Mark and Jim at that point filled the room.
The manager gave the OK and said there would even be no charge if the family could arrange it for Sunday afternoon. Jackie would already be in costume and between appearances.
And of course the magic happened — or should I say miracle?
Let It Go
Looking back on this year long story, it is amazing how it was all orchestrated with such perfection.
Mark meets Jarret because Destiny (Jarret's wife and Aaliyah's mom) had broken a chair at their friend's house. Just when Mark had a chair for sale. The right chair in the right location.
Jarret arrives and Mark asks a question. A conversation takes place. Mark posts it online. Mike Smith — from Kansas — is moved by the post and reaches out with an idea. He works hard at making that happen, but it doesn't.
He keeps trying for a year. Then — at just the right time — suggests that someone from Grand Canyon might help. Mark thinks of Jackie, a student leader he'd met. Jim reaches out to Jackie. Jackie says she herself can do that, and her manager approves as well.
Of course a song Jackie sang for Aaliyah was Let It Go. While the song doesn't say "let go and let God take care of it," that's kind of what happened.
But Mark and Mike and Jackie and Jim and the manager all did good. Every one of them.
Then all of that good came together and brought joy to a little girl's heart.
And I hope yours, too.
Do good. It's in you.