In The Lion, The Witch and The Wardrobe, the best known book in The Chronicles of Narnia, there is a boy named Edmund.
Edmund has two sisters, Lucy and Susan, and a brother named Peter. Edmund, we learn, is a big fan of the candy called Turkish Delight.
All four siblings are exploring an old house when Lucy, the youngest, goes into a wardrobe and finds a door into another land. That land is Narnia, and it is beautiful, magical, and quite strange in some ways. There she meets Mr. Tumnus, who is a faun, and she stays for hours and has tea and cake with him.
From Tumnus Lucy learns that Narnia, which is covered in snow, is under a curse. The White Witch has put a spell on the land so that it is "always winter and never Christmas."
Clearly the White Witch is evil.
In fact Mr. Tumnus confesses that he had been enlisted by the White Witch to kidnap any humans who came into Narnia. But he feels terrible about it, and Lucy convinces him to let her go back. When she returns she discovers that she has been gone less than a minute — no time at all.
As you can imagine, the others don't believe Lucy's story. They go into the wardrobe and find no door. But on another day, while playing hide-and-seek, both Edmund and Lucy go through the wardrobe and into Narnia.
Turkish Delight and more
Edmund, who cannot find Lucy, sees a sleigh coming, driven by a dwarf and pulled by two deer. It is the White Witch. He knows nothing about her, but she sees who he is fairly quickly. She also learns that there are other humans — his siblings — so rather than turn him into stone she tempts him.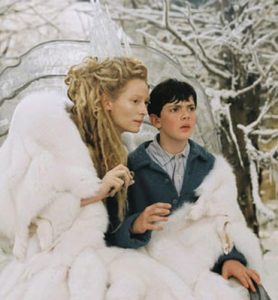 First she gives him something warm to drink, then asks what he wants to eat. Turkish Delight is the answer, and she conjures up so much of it that he makes himself sick by eating it. Still, he wants more. The Witch refuses, saying he must come back and bring the others with him, and he promises to do just that.
All for more Turkish Delight.
There is also the promise from the Witch that Edmund will be made a prince and eventually the King of the land. Those things hold great appeal for Edmund, who, we learn, cares very much about Edmund.
To see how it all unfolds, you will need to read the book or watch one of the several movies made of it. You could probably do either in the space of little more than an hour and it would seem like no time at all.
It ends well, thanks to the work of Aslan, who is the lion in the title and the true King of Narnia.
At this point, though, Edmund doesn't recognize that he has fallen under the influence of evil. All he wants is more Turkish Delight and a position of authority, especially over his siblings.
And that, I believe, is an amazingly accurate picture of "the woke" of today.
Once upon a time…
Just a few decades ago, back when LGBTQ+ was gay and lesbian, many in that community felt like they were being judged unfairly and treated poorly. In many cases, they were. They wanted more respect.
As it happens I had both employees and friends who were gay or lesbian. They were all good people and productive members of society.
All of my friends, whether they are straight or not, know that my beliefs are informed by scripture. That includes the beliefs that I am to love others and that it is not my place to judge someone's relationship with God. But that doesn't mean I should defend, support, or promote life choices that are inconsistent with God's word. I want to love both people and the truth.
Unfortunately ad hominem attacks are the way of many today, on both sides of issues. That is a big part of the reason we are so divided. There is too little dialogue and too much vitriol. Truth gets tossed out in favor of the cleverest or most cutting put down.
But I digress. Lets go back to the time when the gay community sought more respect. They made the case that even though they lived a lifestyle that was different than the majority, they should be allowed to do that in peace.
And they pretty much got it.
But it wasn't enough. Like Edmund, they wanted more.
Hockey questions, anyone?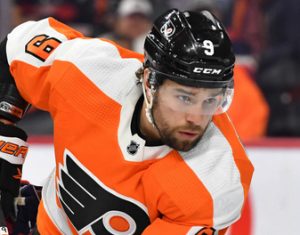 Fast forward to last week and the Philadelphia Flyers hockey game against the Anaheim Ducks. The Flyers were issued jerseys and sticks for the warm-up skate that were LGBT themed. Ivan Provorov, a Philadelphia player, made the choice to not participate and stayed in the locker room. His coach supported that choice.
After the game the Flyers' defenseman was asked about it and said, "I respect everybody, and I respect everybody's choices. My choice is to stay true to myself and my religion."
Then he asked if anyone had questions about hockey.
In social media, at least, Provorov's respect was not returned. It was returned in the Flyers' store, where fans rose up in support of Provorov by buying his jersey. In less than a day they were sold out.
Meanwhile the woke tweeters and a few woke sportscasters piled on. One said the Flyers should be fined $1,000,000 for not making Provorov participate in Pride Night. That is not a request for respect, it is a demand for submission.
And they are getting it, but at a cost. Many network TV shows feel pressured to include a same-sex relationship, for instance, and people are tuning out because they know it is gratuitous.
The woke have widely adopted the strategy of pushing for more. Ultimately it will not help their cause. Already it seems they have eaten far too much Turkish Delight, and everyone else's stomach is churning.